For the past few months I've been convinced that I was coming up on my 3rd Blogiversary.  Like seriously.  But no, it's only my 2nd!  *mind blown*.  You can read about my first-year adventures & Blogiversary HERE.
Over the past 12 months I've accomplished so much!  I dabbled quite a bit with electricity by replacing 3 ceiling fans, 2 dimmer switches, 1 timer switch, 4 ceiling lights, 1 over-the-counter light, and 1 bathroom vanity light.  And only electrocuted myself ONCE.  I think that's an accomplishment in itself!  I've acquired some invaluable DIY tools including a WorkMate table, 4 Whitmore shelving units, and a Peg Board.  I've doubled the amount of cat shelves and cat platforms in the house and learned SO MUCH about wood and framing [not by construction standards, just DIY standards] by building the kitties the awesomest outdoor cat enclosure ever!
I've also learned a bunch of valuable "behind the scenes" stuff to make my blog better, like drop-down menus, site optimization & speed, the important of Alt Text [my photos & posts now show up on Google!!!], and how convenient it is to have "next post/previous post" links at both the top AND bottom of each post, not just the bottom.
So:  Happy 2nd Blogiversary to me!!!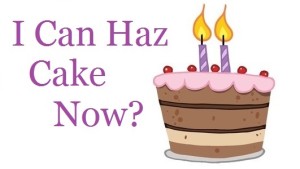 (Visited 142 times, 1 visits today)