Page last updated 5/5/2020
THE STORY OF THE NAME
Some people wonder where the name of my website came from.  I had a dream a long time ago that I was orbited by 9 small, dark moons.  They slowly circled me on elliptical orbits.  I've always wished that were true, so I adopted the name as my online moniker back in the late 1990's.  In my head, I'm still orbited by nine dark moons wherever I go, and now I have a custom license plate to prove it: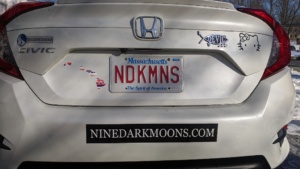 During Christmas holiday in 2011, a few months after our first date, hubby surprised me by buying & registering the domain name ninedarkmoons.com:  something I'd always wanted!  But I had NO concept of what the site would be, and NO idea where to start.  Soon thereafter I moved in with him and we eloped to Town Hall [!], but the site was still unpublished & collecting virtual dust.  Every few months he'd prod me to fiddle with it, or at least read about web page design so I'd have a clue where to start.  But I kept dragging my feet.  Without a central theme or focus for the site, it was still just an abstract dream, to be pursued "someday".
Then I discovered a love, a knack, and [most importantly] an opportunity for DIY:  co-owning the condo we live in was the first time I'd ever owned a place I had the freedom to customize.  Suddenly ninedarkmoons.com came alive!  The condo didn't need much work, but I started seeing things here and there that could be tweaked or edited, and hubby was open to my ideas!  The DIY spark caught fire… and the rest is history!
(Visited 466 times, 1 visits today)