In case you missed it, here are the previous links for this now-completed project:
DINING ROOM:
DOWNSTAIRS HALL & LIVING ROOM:
A couple of weeks ago, I extended the downstairs cat platforms [which I'd built in October] around the corner into the living room so Birdie could access the TV cupboard and the couch.  This afternoon, despite being sick, I got out of bed long enough to extend the platform in the other direction, around the corner into the laundry room:
It's a "quick and dirty" solution to a problem that has arisen over the past couple of weeks.  If you've been reading my blog, you know that Bonkers, our middle cat, is obsessed with Birdie, our new cat.  He stalks and terrorizes her any chance he can get.  He can't jump, so I've built a series of elevated platforms for Birdie so she can enjoy our company without worrying about a Bonkers sneak attack.
We've always had 2 litter boxes – one in the laundry room [that looks like a planter] and one in the upstairs bathroom [that looks like a cupboard].  Birdie always uses the upstairs box.  Over the past few weeks, Jim has noticed Bonkers guarding the upstairs box a few times.  He lays on the rug next to it knowing Birdie won't come anywhere near him.  We shoo him away and sometimes have to gate the stairs so he can't reach the 2nd floor.  Jim suggested we set up an elevated litter box for Birdie, which Bonkers wouldn't have access to.  So I bought a top-entry box and we put it up on a table in the girl cave.
I could have DIY'd it out of a Rubbermaid bin, but I decided to just drop the $40 and get the top with the grating [to catch loose litter] and a cut-out without sharp edges.  Birdie has never used it.  Darwin, however, loves it.  He's so big that his head and shoulders stick out while he's doing his business, so he looks like he's driving a little car.  It's kind of funny… But with Birdie ignoring it, we were back to square one.
I kept putting off building an actual elevated litter box.  I'm not sure why.   I think I was just hoping that either Bonkers would leave her alone, or she'd start using the top-entry box.  But last week, as we were packing for Florida, we heard a horrible commotion in the bathroom:  Bonkers had literally trapped Birdie in the litter box – she was inside it and he was standing directly in the entrance.  We chased him away, and poor Birdie fled into the bedroom.  We had no choice but to leave on our trip and hope for the best.  Our neighbors were watching our kitties and ratties and they texted me a few times saying Birdie had pooped on the upstairs hall cat platform.  We figured Bonkers must have been guarding the litter again, and without us there to chase him away, Birdie had no other options but to go on her platform – poor girl!
We got home a couple nights ago, and everything seemed back to normal.  But last night we heard a weird squeaking noise upstairs and ran up to see what it was.  Birdie had poo'd on the platform again, and was trying to "bury" it by pawing the window over and over again, which was causing the noise we heard.  Then we realized she'd also peed – a LOT!  And it was running down the front edge of the bookcase, over the 2 rows of books below.  ^%$#!  Jim pulled all the books out and put them on towels to dry off, and I cleaned up the poo and pee.  Jim set up a temporary litter box on top of the platform in case she felt cornered again:
The books are still air-drying on towels in the girl cave… Hopefully most will be salvageable: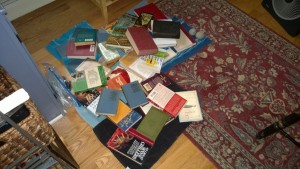 Since last night, Birdie has used the little pink litter box two more times…  reiterating the absolute need for an elevated box.  So Jim and I brain-stormed this morning.  He proposed a platform under the stairs, above the bikes, which would give her a nice, private space:
I agreed that would work.  But for now I felt Birdie would benefit more from a small extension to the current platforms, with a litter box on top of the washing machine [we have front loaders].  We already have the "planter" litter box in the laundry room, and her current platforms are adjacent to the window between the hall & laundry room, so she's comfortable with the area.  To build the actual platform I grabbed 2 pieces of scrap wood from the basement – one painted and one not [since this is a temporary thing] – and linked them together using metal braces [which my Dad introduced me to many years ago – thanks, Dad!]: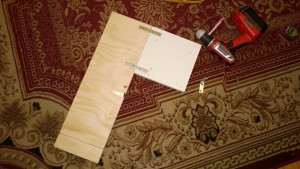 Then I attached brackets and was about to attach the combined platform to the wall but realized the square edges would be a great way for Jim & I to impale our sternums as we went in and out of the laundry room.  Using a ruler I penciled on lines and then used my handsaw to cut the edges off [the basement floor is wet again, so power tools aren't an option]: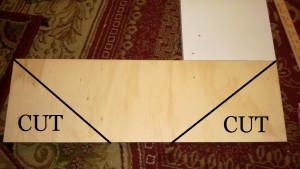 I sanded down the remaining edges, attached it to the wall, and covered it in IKEA bathroom rug [tied down with string] like the other platforms [I went a little overboard on the front corner]:
Then we set up a blue litter box on top of the washer: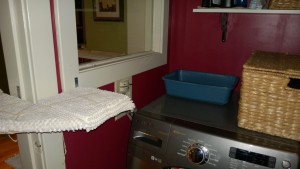 Birdie immediately took to the new platform!  That's Darwin in the background: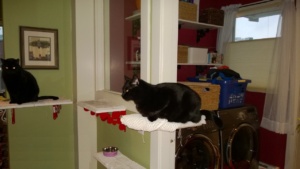 Hopefully she'll use the new litter box!  Tomorrow we'll head to the pet store and get a covered box – she's really talented at spraying poo, so we'd both feel better if she had a covered box, especially with it being so close to our clothes…
As I was proofreading this post, I went to get more tea and saw Birdie chilling on her new platform again [yay!]:
And saw that hubby had set up another piece of the IKEA bathmat in front of the new litter box: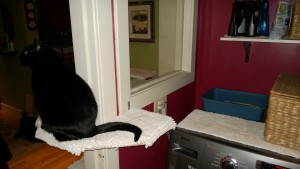 He's smart 🙂
UPDATE 12/9/14:
I went to Petco and miraculously found a covered litter box small enough to slide into the space between the washer and the shelf above it. The best part? It's raspberry colored [at least the base is], which matches the laundry room walls! Total accident. It came with a swinging door, which I've removed for the time being. Birdie hasn't used it yet, but I'm hopeful she will…:
Tonight Birdie walked towards it, like she might check it out, but instead was more interested in the bridge outside the window:
On a side note, a few weeks ago we bought Birdie a cat tree for the bedroom [#affiliate].  We got it on Amazon.  She loves it!  She likes to sleep in the little house part, and loves to sharpen her claws on the sisal rope wrapped around each post:
She also likes it when I wiggle the laser dot around the tree:
Just so you know, Nibbler helped me write this post, while Lava & Kona watched:
(Visited 415 times, 1 visits today)