In case you missed it, here are the previous links for this now-completed project:
I thought I was done with this project, but after living with the girl cave AC cabinet for the past few months I decided I didn't like the blue I'd used to spray paint the laser-cut wooden door panels with:
The blue was just a random color I'd had in a can of spray paint.  But to me it clashed with the violet of the walls and the deep purple of the ceiling.  So last weekend I climbed up, planning to remove the cabinet from the walls.  But that didn't work out.  When I caulked it to the wall I did a REALLY good job apparently!  So I had to settle with taking just the doors off.
After taking the doors apart [frame/laser-cut panels/rigid insulation] I sprayed the panels off-white:
Then painted the rigid insulation the same color as the walls and let everything dry for a week:
Today I put the doors back together.  But before putting them on the cabinet I used the same trick as I did with the bedroom AC cabinet and added thin pieces of cardboard behind each hinge to bring the doors out a few millimeters.  Originally they closed too tightly and I wanted to fix that.  I grabbed an old Ziploc box from the basement: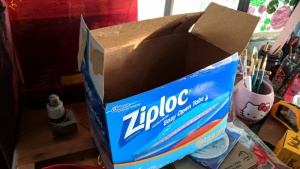 And cut little hinge-sized pieces from it:
Then hung the doors up, inserting the cardboard under each hinge:
Closeup of the cardboard behind the hinge: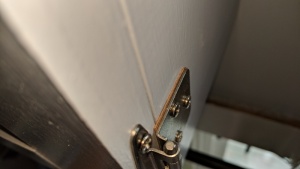 Look how perfectly the doors close now – just a few millimeters of space which is what I wanted:
I love how it looks now!:
BEFORE & AFTER:
As you may note in the above pic, I've removed the weird alien-looking IKEA light I'd hung up there in 2016.  I'm going to replace it with a spotlight shining down on my work bench.
(Visited 100 times, 1 visits today)