On Wednesday it was really gross out so I left work at 1pm and put in for vacation leave instead of trying to work from home.  I don't like working from home – when I'm home the last thing I want to do is work!  Due to the craptastic weather it took 40 minutes to drive home instead of 20.  For the first half of my ride I was behind a line of cars with a plow & sander at the head.  Then, about a mile from my house, I saw blue lights and a downed telephone pole – yikes:
And yeah, I took photos while driving, which I'm not proud of… I don't even talk on my phone in the car, let alone snap shots, but I was going soooooooo slow.
So I spent the rest of the afternoon finishing the bedroom AC box.  I attached the rigid insulation panels to the doors which I'd painted black on one side and white on the other:
I love how they came out: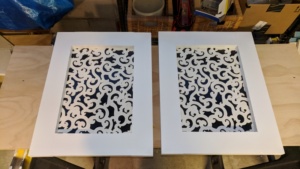 I had a lot of trouble attaching the doors to the cabinet.  It took 2 attempts and I finally gave up and "cheated" by placing thin cardboard panels under one set of hinges to keep the doors from being so tight they wouldn't shut: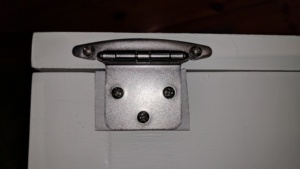 I was surprised how well it worked!
Here's how the AC looked before the box and after – much better:
As with the other 2 boxes I used caulk to "glue" it to the wall and also bolted it to the wall with an L-bracket at the top.
This is the only box where the doors open all the way, due to wall and ceiling constraints in the living room & girl cave:
I love how it looks:
Hooray for finishing my first project of 2018!
In cat news, Birdie is spending more and more time downstairs, either in the front hall or in the living room with us:
And she and Darwin are getting closer & closer.  They often sit and stare at each other, having long, silent communications.  And sometimes when she's playing on the floor he'll lay down nearby and either gaze at her or roll onto his back and look at her upside down.  It's awesome!
They both LOVE to play and I'm hoping that eventually they'll play together.
In very exciting news, hubby and I figured out we can both retire from work on the same day:  February 3rd, 2028.  I'll be 57, which is the minimum age required to retire from Federal service, and hubby will be 59½, the minimum age to retire from the public PRIVATE sector [typo in my original post] without penalties.  It's SO exciting!  To celebrate having less than 10 years of work to go, I installed a countdown timer which you can see at the bottom right of my website:
So in less than 10 years, we'll be retired and moving to the Big Island, Hawaii 🙂
(Visited 126 times, 1 visits today)