One of the things on my 2017 Projects list is to build boxes to enclose & cover our in-wall AC units.  I am basing them off this awesome design from Vintage Meets Glam:
She got her door panels at Michaels & I was lucky enough to find the same ones.  I bought 8 even though I only need 6 – it can't hurt to have a couple of extras.  I have no idea if Michaels always carries them or not.  I felt very lucky to find them at my local store!  During our warm spell in February I got 4 painted on one side, with off-white spray paint:
However, since then I've decided the boxes will look much better painted to match the walls, which means I'll need to paint the door panels green [living room], violet [girl cave], and white [bedroom].  I can't do much until it warms up again [I need to spraypaint outside], so for now the doors are on the back burner.  But I did finish the 3 boxes this weekend.  As you may know from reading my last post I forgot to take the width of the wood into account when measuring for the boxes, so I had to add 1½" extensions to each side panel.  I had pre-painted the wood for each box, but didn't bother with the extensions pieces – I just wanted the boxes built!  So after putting them together I brought them down to the basement cage and used my orbital sander to blend the edges of each extension panel, then primed & painted the extensions.  Thankfully you can't really notice the extensions now that the boxes are uniformly painted.  Here are some progress pics:
I let all 3 air dry for 2 days resting up on painters triangles [#affiliate].  Today after work I decided to hang them on the wall, mostly to make sure they fit [!!!] but also to see how they look.  I love them!  They look so good and the doors aren't even on yet.  They easily slide onto the metal support box surrounding each AC, so I didn't have to bolt them to the wall.  I will once the doors are on.
Girl Cave: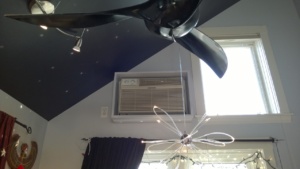 Master Bedroom:
Living Room: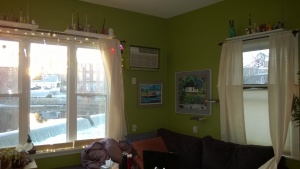 Once the doors are on they're going to look soooooooooo much better than the ugly ACs!  If I can't find spray paint that's a close match to our living room & girl cave wall colors I might need to buy a cheap paint sprayer.
(Visited 185 times, 1 visits today)