Last March I built the basic box frames for the 3 built-in AC units.  I placed them on the wall over each AC unit and that's where they've been for the past 10 months.  They weren't actually attached to the walls, they just fit very snugly over the metal case of each AC unit:
That was as far as I got until 4 weeks ago when we had a super cold spell with strong winds approaching -20° hitting the back of the house, which is where all 3 AC's are.  Laying on the couch under the living room AC unit I could feel an arctic blast blowing straight down on me.  It made me realize I needed to build the doors for the AC boxes asap!  And also that I'd need some form of insulation, which I hadn't considered before.  Even after living in the condo for 6 years I never knew how much air actually came in through the AC units.  The wind usually hits the North side of the house, but this time it was coming straight in from the West.  Most unusual, but quite fortunate as far as this project is concerned.
My first step was wrapping all 3 AC units in winterizing plastic so the cold air would stop, which bought me some time to work on the doors:
In my last post I wrote about building the doors:
I spent a couple of weeks priming all 6 and painting them the colors of each room:  Benjamin Moore Sycamore Tree for the living room, Benjamin Moore Violet Mist for the girl cave, and Benjamin Moore White Dove for the bedroom.  I also took advantage of some unseasonably warm weather to spray paint 4 of the 6 laser cut wood panels.  I used linen white spray paint for the bedroom panels and a pretty blue I thought would compliment the girl cave wall color:
I couldn't find a suitable spray paint match for the living room so I hand painted those: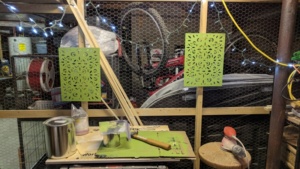 2 Sunday's ago I built the living room AC cabinet doors.  I started by screwing the laser cut wood panels to each door frame:
Then laying each door frame on the AC box to make sure it fit.  Once I got them lined up I attached the hinges:
I bought hinges that would allow the doors to have full range of motion when open [given enough room they'll fold all the way back]: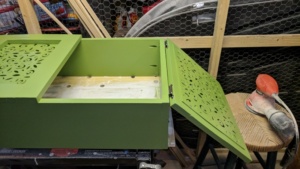 As you can see from these next 2 photos, my constructions is far from perfect.  There's a warped gap at the bottom of the right door, and there's about a half inch of space at the top of the box which the doors don't cover…:
But it's close enough for me!  Plus when hung on the wall you can't see the imperfections 🙂  I now have a LOT of respect for cabinet makers – I never knew how hard it was to get everything to line up on all 3 axes.
I attached magnet catches to the top inside of each cabinet door so when the doors are shut they'll be held fast:
Next up was insulation.  My first idea was to use quilted oven mitt material [#affiliate].  I ordered some on Amazon and was still trying to figure out the best way to use it.  But Abbie and her husband Briggs convinced me that ½" rigid insulation was the way to go.  Briggs told me he'd cut some for me, but instead of waiting I got impatient and drove to Home Depot.  I didn't realize you could only buy it in 4′ x 8′ sheets…  I bought a piece & hauled it out to my car.  And quickly realized the width of my trunk is less than 4′.  D'oh!  So, I hate to admit this, but I sort of went into panic mode.  I folded it in half the SHORT way [DUH!  It was still 4′ wide so it STILL wouldn't fit in my trunk!].  Not my brightest moment.  Then I tried to fold it the long way but it wouldn't fold well since it had already been folded the other way.  So, with people starting to stare at me in the parking lot, I dropped it on the ground and stomped on it to get it as flat as possible, then shoved it into my trunk.  It went in all the way up to my windshield, but at least it fit!  I couldn't wait to get the hell out of there!  By the time I got it home it was limp and useless [hubby watched as I sadly hauled it through the condo and down into the basement where it has since been cut into little pieces and shoved into a trash-bag]:
Oh well.  That was a $15 mistake.  Abbie suggested I keep a small utility knife in my car for situations like this.  Very smart idea!  Would have saved me a lot of embarrassment.  And $15.
So last weekend, when I was back at Abbie's house, Briggs cut me 6 pieces and I took them home and painted them.  I painted 4 of them linen white front & back, and the other 2 linen white on one side and black on the other [for the bedroom cabinet].  I was going to glue them to the doors, but Abbie smartly suggested I screw them to the doors so I can remove the insulation panels in the summer when the doors are open.  She said regular screws would punch through the insulation panels so I should buy Fender washers.  I chose sheet metal screws because they're not tapered at the head like wood screws:
I lay the AC box on the living room floor and carefully screwed in my painted insulation panels:
I decided to use a line of caulk to help attach the AC box frame to the metal frame surrounding the AC unit.  I figure if worse comes to worse I'll be able to cut it away from the wall, whereas glue is much harder to remove.
Here's the caulk before & after I placed the AC box onto it:
For added security I used an L-Bracket and wall anchors at the top of the AC box: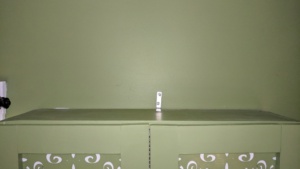 It looks awesome!!!  I love it so much: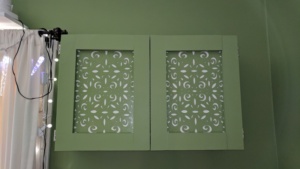 The insulation panels don't look bad at all – I'm not sure we'll bother removing them in the summer: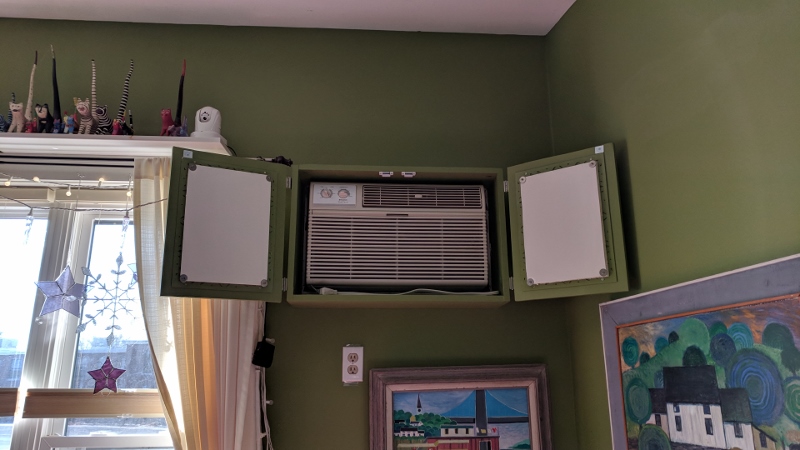 My AC box covers would not have been possible without the inspiration I got from Jolie at VintageMeetsGlam.com.  A few years ago I did an image search and fell in love with hers:
Her blog post made it sound so quick and easy, but I found it to be long and difficult…  heh.  However, seeing the finished product makes every minute worth it 🙂
(Visited 132 times, 1 visits today)