There has been a large gap between my last post and this one, mostly due to being in Hawaii for 10 amazing days, and unfortunately being sick the entire time with a stomach flu, which continued for a week after getting home.  I am mostly fully recovered now [and 10 pounds lighter, which gives me a good head start on my goal of losing 20 pounds in 2016].
I started this post back in JANUARY.  Back then it was titled "Decluttering & Reorganizing the Girl Cave".  It was going to be a sister post to "Decluttering & Reorganizing the Bedroom".  However, since January, I have made some major changes to the girl cave that go way beyond a simple reorganization.  The re-org part included moving my desktop PC into storage, getting rid of my computer desk, moving the printer to the dining room, moving my 2 tall/narrow metal shelving racks & their tools to the basement, and moving the living room cat tree up to the Cave.
Here's what the Girl Cave used to look like [2013 on left, 2015 on right]:
THE ULTIMATE GOAL of the re-org was to move my workshop from the basement cage up to the Girl Cave!  The basement is damp, dark, lonely, spidery, & unventilated.  My stained-glassing projects require the use of a respirator and as much ventilation as possible [because "slightly toxic" fumes from soldering shudder].  The Girl Cave has 5 big windows that open up for fabulous breezes.  And the roar of the Ipswich River is always nice to hear.  No contest really!
Here is me stained-glassing in the basement last winter: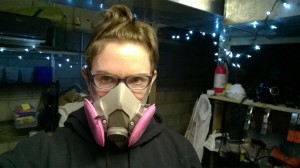 Dark and gloomy despite the festive lights I added in November.  The table saw and miter saw are staying in the basement [for obvious reasons including heavy, large, messy, & loud], but the craft stuff & stained glass stuff is now up in the Girl Cave!  And it's all set up on MY NEW WORKBENCH!!! HAPPY SQUEAK:
I LOOOOOOOOOOOOVE my new workbench.  It's from Home Depot.  Hubby actually spotted it on their website back in January and I went straight over and bought one.  It was only $70 and folds up flat [the shelf folds up and the legs fold in].  But it's ungodly heavy, so I don't imagine I'll be folding it up and moving it around often.  Mostly I love the simple yet sturdy design, the small backsplash so I don't lose shit over the back, and the MDF top.  It's 6 feet long and the perfect height for me to stand at and work: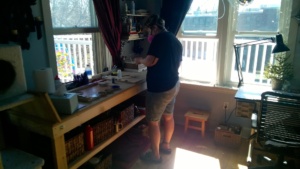 I thought about building my own workbench, because duh, that would be a great project for a low-grade DIY-er such as myself.  But the Home Depot one was so cheap and well made I couldn't resist.  And the cost of the wood I'd need would equal about the price I paid for the fully assembled one.  I have waited a few months to reveal the awesomeness of my new workbench mostly because I wanted to install the new ceiling lights first:
Now I can direct light wherever I need it.  And the sun coming through the windows provides a TON of light.  I love it!  My new workshop and workbench are so awesome I could gallop in a circle of joy.  If that's even a thing.
The purple built-in bookcase is also quite deep, making it perfect for storing my extra glass:
The new setup is definitely cat approved.
One last project for the Girl Cave [which is on my 2016 Projects list] is to paint the tall bookcase either red, purple, or high-gloss black… I'm still deciding: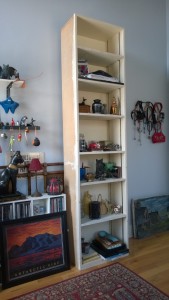 UPDATE 4/30/2017:
I painted the bookcase high gloss red and I love it!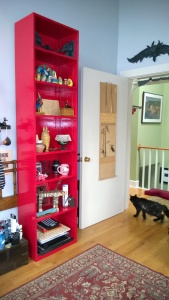 (Visited 319 times, 1 visits today)