In case you missed it, here are the previous links for this now-completed project:
I actually completed this project 6 weeks ago, but haven't had time to post about it.  The project started back in February with 2 coats of primer.  The bookcase came from my friend Martha back in May 2015 when she was moving, and I've always planned to paint it high-gloss red: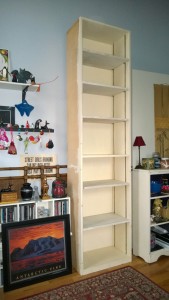 It's perfect for the girl cave because it's so tall.  But it took sooooooooooooo long to paint!  6 coats on all sides, and 9 on the back panel.  Ugh!  But it's awesome and I love it so much.  It's painted Benjamin Moore Exotic Red: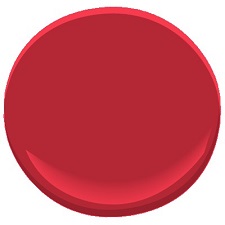 I finished painting it before we went to Hawaii, but I let it stand empty for about a month so the paint could cure:
Last weekend I finally started putting things back into it, many with wax paper cutouts underneath so they won't stick to the paint over time [acrylic can take up to 7 years to fully cure]:
It came out better than I could have expected.  It matches the Ikea cat shelf brackets outside the girl cave doorway, which was my goal:
With the rug laid back out on the floor, the whole room comes together:
That's Bonkers in the doorway.  He's all patchy.  We keep having to shave his matts off because he's too old to groom himself much anymore.  He purrs so loud while I'm shaving him I can hear it over the shaver!  And he comes running [although it's more like fast shuffling] when he hears the shaver turn on.
Here is a pic of Franc eating a snack [he's doing awesome & is completely healed from his health scare],  and Darwin in the catio, both of which I took yesterday:
Happy Spring everyone!
(Visited 169 times, 1 visits today)