In April 2012 we hired a painter to install cloud wallpaper on our kitchen ceiling.  This is one of the few projects we have hired out.
When my husband first bought the condo [Fall 2009 – 2 years before I met him], the walls and ceilings were white.  A blank slate.  His brilliant friend Torrey suggested wall colors, and Jim hired a painter to bring her visions to life.  You can learn more about the funky wall colors she chose on my Wall Colors page.
Here's a picture of the kitchen when my husband first moved in, courtesy of my father-in-law: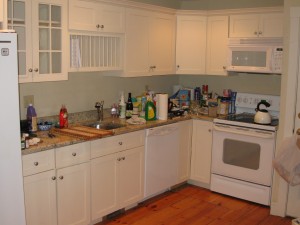 Since then, there have been many changes!
In 2010, the walls were painted golden yellow and a faux tin backsplash was added, thanks to Torrey and her home decorating skillz!
In March 2012, right after I moved in, we strung LED lights below the cabinets and across the tops [Jim's idea!], giving a cool ambient glow to the room when the overhead lights are off [note Darwin in the 2nd picture – he ALWAYS has to see what mommy is up to – unfortunately he jumped down mid-picture!]:
In April 2012, we had the ceiling wallpapered with clouds!  We got the idea from my parents-in-law's condo in Florida – their entryway has a vaulted ceiling with cloud wallpaper and ambient lighting.  It's quite beautiful!  Surprisingly, it's very hard to find decent cloud wallpaper – we found ours at Home Depot but it's since been discontinued:
We had full intentions of wallpapering the ceiling ourselves.  Until we read the directions, and realized it involved precision measuring [to accommodate the not-exactly-square ceiling], precision cutting [to get around the recessed lights], and precision planning [to match up the cloud design for a flawless finish].  Gah!  Back in 2012, that was waaaaay out of either of our comfort zones, so we hired a local painter who does wallpapering on the side.  If we were going to wallpaper a ceiling now I'd definitely give it a go!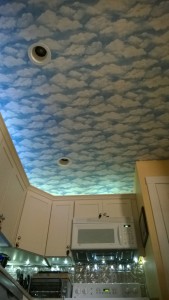 We love how it turned out!  Not everyone that sees it loves it, but we do, and that's all that matters!  Some of my friends have asked why I didn't hand-paint the clouds.  I considered it, but decided it wouldn't be worth all the neck-craning involved.  I've also seen many hand-painted cloud ceilings which look horrendous.  It takes skill to paint uniformly sized clouds that don't look like giant cotton balls, and although I might have that skill [I've never painted a cloud before], I certainly don't have the patience!
The final kitchen update occurred in August 2012, when, in a dramatic act of appliance mass suicide, the original fridge and dishwasher croaked.  Within a week of each other.  And a week after that, the washer & dryer croaked!  *%$#@!  It's quite a shock to the bank account when 4 major appliances die at the same time…  But, as a result, we ended up with swanky new stainless steel kitchen appliances [and a swanky new dark grey washer/dryer set], which will hopefully outlast our stay at the condo: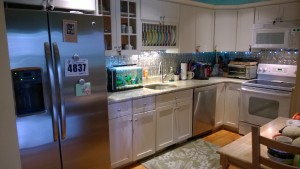 I guess one last update to the kitchen could be my DIY Spice Rack this past January!  It's come in handy on a daily basis!  Hubby loves it, too!  It's awesome to see just what I need versus pawing through a cupboard of randomly unorganized spices.  I can also easily see when we're almost out of a spice.  And it's a great place to store adorable kitchen timers 🙂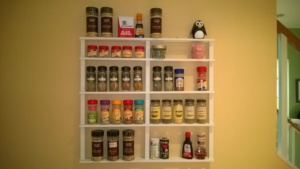 A BIG part of DIY is knowing when to tackle a job yourself versus knowing when to hire it out.  Some jobs just aren't worth the amount of time and frustration it would take to do it yourself, even though you technically could do it yourself.  Like painting multiple rooms in a short period of time, installing hardwood floors, or wallpapering a ceiling.  The man who wallpapered our kitchen ceiling built himself a mini scaffold so he could lay on his back an arms length away from his work – it was impressive, and reinforced our decision that hiring it out was the right thing to do.
Some jobs fall into the category of actual safety and building code regulations, which is why we've hired our neighbor Roger to design and build our 2nd floor deck [he's a retired contractor, but still has a crew that he provides oversight for – and since he lives in the same house as we do, he'll be right there to supervise them every step of the way].  The deck will require cement footings on the river embankment and reinforced steel beams between our 1st and 2nd floors – definitely way beyond my capabilities!  I have heard of people building their own decks, but I'm not going to be one of them!
(Visited 428 times, 1 visits today)