Cat drama never ends, does it*.
We have 3 cats.  And 6 litter boxes.  We dump and scrub the litter boxes each week, and scoop the poos daily.  2 litter boxes are elevated for Birdie, the rest are on the floor for Darwin & Bonkers.  You would think 6 would be enough.  Nope!  Recently [past couple weeks] Darwin has started using Birdie's elevated box in the upstairs hall, the one I made a privacy panel for: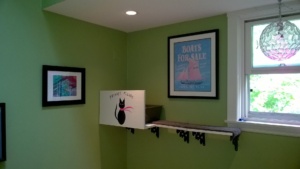 He likes it because he can stand on his back feet, rest his paws on top of the privacy panel, and get better leverage.  Or something…  I only have one pic of him in action: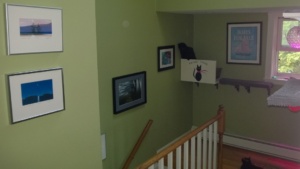 You can see Birdie on the floor looking up at him like "WTH dude?"
So Miss Birdie, in response, started boycotting her litter box and peeing [and poo'ing…] on the upstairs hall platforms instead.  Both the one leading to the litter box & the one she's sleeping on in the below picture: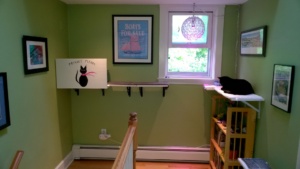 I kept saying to hubby "the upstairs hall smells like cat pee" but he couldn't smell it.  Eventually I figured out what was going on.  I immediately moved the bookcase into the bedroom so the books wouldn't get ruined [thankfully they didn't, and thankfully it looks good in there]: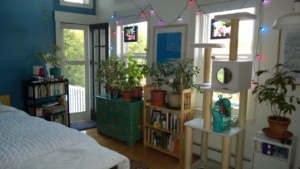 Then I scrubbed the upstairs hall floor, walls, & platforms while hubby washed the platform rugs.  Yuk!  We put the freshly washed rugs back on the platforms and sometime overnight she peed on them again *sigh*.  That's when I started to realize this was a real problem.  No actually I realized it was a big problem last Thursday evening when I put a brand new, lime green IKEA rug down on the platform and Birdie immediately squatted and started to pee on it, right in front of me.  GAH!!!
Backing up slightly:  I took last Thursday off from work and went to IKEA with my parents.  I bought 10 more Toftbo bath rugs [in lime green this time] for the cat platforms.  For the past 2 years we've been using mostly grey ones so I decided they needed a colorful makeover.  When I first got home I put the whole stack on the girl cave floor.  Birdie jumped right up on them but then Darwin came in for a sniff & she got very annoyed and jumped to the windowsill platform, giving him the cold shoulder:
So this past weekend I set up a SEVENTH litter box, on my art desk in the girl cave.  I had to put my computer into storage again [which is OK since I have my new laptop now] and set up a new green IKEA rug and a litter box for her: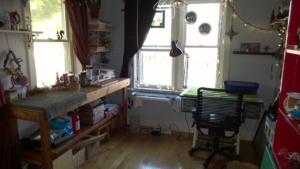 She LOVES it!  She started using the litter box immediately, and has decided the green rug is another nice spot to hang out:
Now I'm just hoping Darwin doesn't decide to start using the new litter box…!
* I know that crazy cat people like myself tend to go way overboard with cat stuff, so I apologize to the non cat people out there who are like "wtf, seriously?"
(Visited 277 times, 1 visits today)