The workbench I bought last year at Home Depot was very affordable [$70]: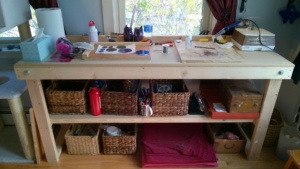 And I LOVE it.  But I have been having issues lately using it for stained glass work [which is what I bought it for].  The cutting oil soaks in and makes ugly marks, which you can see in this picture: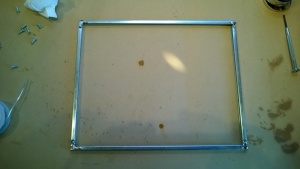 And when water from my glass grinder gets on it it swells up: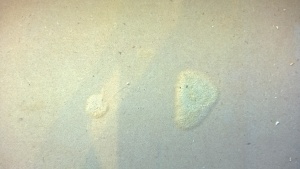 Leaving permanent ugly marks.  So this week after work I stained it – just the top, I will probably do the legs & shelf at some point in the future.  I also stained the 2 work boards I use – one for copper foiling and laying out projects & one for cutting and soldering on.  Here's my workbench and 2 work boards before I started, and my workbench after a coat of stain:
I let it & the 2 work boards set overnight, then added a coat of polyurethane sealant:
My polyurethane is the consistency of hot caramel – I have no idea if that's how it's supposed to be… I can't remember.  The last/only time I used it was to finish the TV cabinet.  But it worked fine and looks nice & shiny:
I let everything cure overnight then added a 2nd coat of polyurethane.  By yesterday after work my workshop was ready to be set up again.  It's amazing how good MDF & 2x4s look when stained!
I tested it out by creating another stained glass project which I'll share later.  The oils and solder didn't stick or harm the polyurethaned surfaces at all.  Score!  So shiny & beautiful:
One odd thing was that when a drop of hot solder landed on my work board the burning polyurethane brought back instant memories of my old nursery school… random and disturbing!  Just like whenever I give one of our rats a bath their wet fur smells exactly like my freshman dorm at URI… also disturbing!  But wet rat actually smells kind of good, kind of like how sun-warmed cat fur and dog feet can also smell good…
Here's the stain & polyurethane I used – same stuff I used 2 years ago for the TV cupboard topper:
UPDATE 7/15/2018:
In May 2017 I stained the rest of my workbench 🙂
(Visited 418 times, 1 visits today)