In case you missed it, here are the previous links for this now-completed project:
FINALLY!!!  After more than TWO MONTHS of work, the cupboard is finished!!!  Two weeks ago I got the right half of the cupboard finished:
It took 6 coats of raspberry to completely cover the white – my Dad said that's because I was using latex WALL paint instead of latex enamel – d'oh!  Apparently latex enamel is MUCH better for furniture and other wood items.  Good to know!
Last week I got the other half of the cupboard finished:
The new, thinner lip looks awesome!  I nailed it to the edge of the plywood top and also into the old blue laminate top, which is under the plywood.
I LOVE how the raspberry cupboard and dark metallic hardware look together: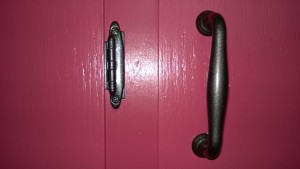 The last step was filling the nail holes in the lip, which took 2 coats of tinted wood filler, and a bit of stain [I used a Q-Tip to apply the stain].  Unfortunately I forgot to use "finish nails" for the first few, so I had to cover up some really fat nail heads.  Meh.  It only shows in certain lights…:
Lesson learned.  Note to future self:  always use finish nails when FINISHING a project!
So here's a pic of the cupboard before I touched it, a pic of the white cupboard FAIL, and a pic of the finished raspberry cupboard:
(Visited 387 times, 1 visits today)