In case you missed it, here are the previous links for this now-completed project:
Last February I stained & waterproofed the top of my girl cave workbench.  I only did the top because I didn't think it would matter if I left the rest natural wood, and I needed the top waterproofed stat, since my stained glassing was leaving ugly waters spots on the MDF.  But after living with it for a few months I decided the rest really needed to be stained.  I knew it wouldn't take long, and it didn't.  So last week after work I cleared everything off the top and shelf, and pulled it away from the wall.  Then added 1 coat of stain:
Immediate improvement.  I let it cure overnight, then polyurethaned it the following afternoon.  On the 3rd day I pushed it back against the wall & put everything back onto/into it.  It looks amazing:
A few days later I decided it was high time I actually hung a shelf above the workbench, something I've been meaning to do for like 2 years.  I found an old cat shelf in the basement, already painted [score] and some old brackets, and spent about 5 minutes measuring, drilling, and hanging it up:
It's so handy for the stained glass supplies that I don't use all the time:
I also screwed a hook into the wall below the shelf to hold my respirator & goggles: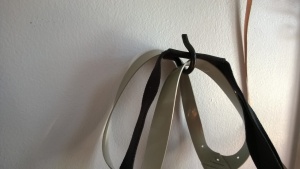 So with the red bookcase all done, and the workbench all done, my art studio is ready to produce some art!
(Visited 269 times, 1 visits today)