Progress so far:
This weekend I created 3 new stars for our living room window. I dressed them up with pre-tinned copper wire to make them look like snowflakes: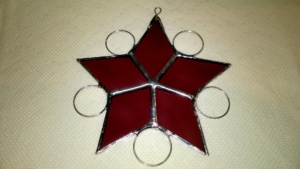 So far the blue one is my favorite 🙂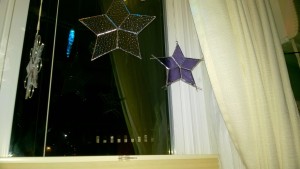 I decided on a whim to start playing with pre-tinned copper wire. Pre-tinned means it's already been dipped in solder so it saves me the headache of trying to lay an even layer of solder over it. It's very easy to hold the wire designs with needle-nosed pliers and solder them to the stars. I did the purple one first, the blue one with the squiggles second [each squiggle shaped by hand] and the raspberry one 3rd [I shaped the circles by wrapping the wire tightly around the handle of a tool and then snipping it with wire cutters]. The circles were hubby's idea. We're a good team ♥.
(Visited 236 times, 1 visits today)