I made 9 more stained glass stars 🙂  Now I've made 17!  I can't show pictures of them all yet, because some are gifts.  But I'm making a bunch for Jim and I as well!  Such as this large "bubble wrap glass" star:
This dusty purple star:
This raspberry star:
And this small green star:
Hope everyone is enjoying December!
UPDATE 1/15/2016:
One of the stars I made was this 6 pointed star for Jim's Auntie Alice: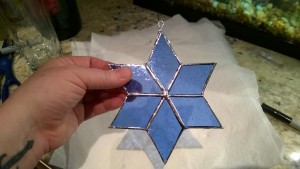 (Visited 205 times, 1 visits today)