In case you missed it, here are the previous links for this now-completed project:
A couple months ago I completed my first stained glass project – a spider web!: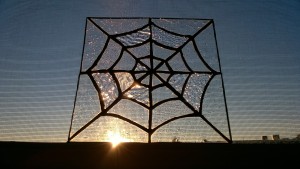 Last month I finally got brave enough to add hanging hooks [I was working on my very first stained glass star at the same time!].  I read how to do it online, but it was still quite tricky.  I fashioned 2 hooks out of copper wire [one for each side] – you can see them on my workbench to the left of the star:
Then I got my soldering iron out and the "flux", which is greasy liquid you have to paint onto anything you're soldering so the solder adheres to the copper [or lead]:
I figured out VERY quickly that a copper hook heats up to psychotic temperatures within 2 seconds of being touched by a soldering iron. Needle nosed pliers became imperative: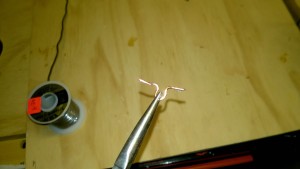 I wedged the spider web on it's edge between 2 pieces of wood and soldered the hook onto the side: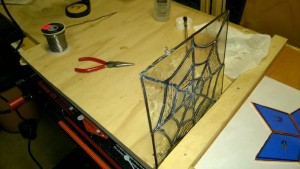 I flipped it over and soldered a hook on the other side, then hung it in the living room window – it's so nice to finally have it hanging up!!!
Jump forward to this month.  Abbie warned me a couple of times that the spider web was probably too heavy for the hooks, since they were soldered directly to the copper foil border.  She wasn't kidding!  Today I took the web down to my workshop and barely applied any pressure before the hooks peeled off, taking the copper foil with them: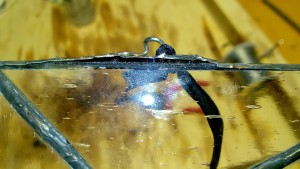 I washed the newly bare edges with soap and water, and re-applied copper foil:
I soldered the new edges, and patina'd them black like the rest of the web:
Then I cut pre-tinned copper wire into matching lengths with built-in loops:
I soldered the wires on, and patina'd them black:
Now the web is back hanging in the window.  I have NO IDEA if what I did will make the web stronger.  Abbie and I discussed it the other day and agreed a wood or metal frame for the web would be the best solution.  But for now, the reinforced sides with hooks should hopefully keep it safe from falling!
(Visited 353 times, 1 visits today)