I am a Federal employee & have been on furlough since 12/22/2018.  I spent the first 5 days of my furlough in Florida with my family for Christmas.  Since then I've been keeping busy with projects and deep cleaning.  For my 2nd furlough project I built additional shelving for our front hall closet.  This is something I've been meaning to do since 2015!  Our one shelf has been a disorganized mess for the past 3 years.  When I cleaned it out I found stuff I didn't even know we had, and also stuff we've been looking for: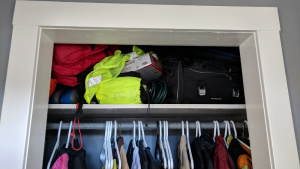 My plan was to build 2 side-shelves to sit on top of the main shelf & take advantage of the high ceiling in the closet.  The clearance between the main closet shelf and door frame is only 10″, so I wasn't able to get up in there and nail/screw braces to the wall.  That meant dusting off the Kreg Jig and making shelves with legs [aka little tables].  Before building them I checked the internet but all the cheap cubbie-type storage I found was at least 2″ too wide.  I already had a surplus of ¾" plywood in my wood pile, so I used my table saw to cut 6 pieces:
The Kreg jig made easy work of them and soon I had 2 little tables:
I primed & painted them:
Then easily slid them into the closet [see? not much clearance]:
So cool!  Exactly what I had in mind:
Here's a wider shot of the 2 shelves, and an after shot once I'd stored everything back up there.  I had so much extra room that I was able to store a whole bunch of new stuff that has been laying around the house.  Score!:
The shelves were a very easy project and I'm so glad they're finally done!
Stay tuned for furlough projects 3 & 4!
(Visited 78 times, 1 visits today)