As some of you know, I am a Federal employee – I have worked for the Dept. of Commerce since 1993.  I have been on furlough since 12/22/2018 with no paycheck until the government re-opens.  Thankfully with hubby working in the private sector and no dependents, we are fine for now.  I spent the first 5 days of my furlough in Florida with my family for Christmas.  Since then I've been keeping busy with projects and deep cleaning.  I have found enough dust-bunnies to knit a few sweaters, which is SO GROSS because I always consider our house to be very clean!  Apparently it is until you look behind and under the furniture…
My first "furlough project" was to refinish the small 3-drawer cupboard in the living room.  It has always been unfinished wood and over time the top became very scarred:
I wanted something fun & vibrant and settled on Benjamin Moore Rosemary Green in high gloss:
I put 2 coats of primer on first:
Followed by 4 coats of Rosemary Green:
The drawers were done first – I put them back in the living room as a placeholder to see how the color looked – we loved it immediately: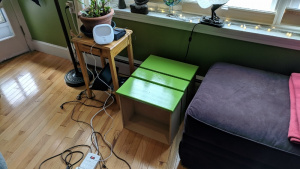 Then I added 2 coats of Minwax Polycrylic to the top so things won't stick to it:
I let the cupboard sit in the living room for 5 days with the doors slightly open to let everything seal, then added black metal doorknobs from Home Depot:
It looks awesome!:
Stay tuned for furlough projects 2, 3, & 4!  I'm especially excited to share #4.
(Visited 84 times, 1 visits today)