Yesterday after work I put up 2 of the Hemnes shelves I bought at IKEA on Wednesday.  They're solid pine that's been stained white.  I'm not sure what "white stain" is.  They look painted.
I moved the couch and chair, got up on the ladder, and screwed them into the window frame above the big window in the living room overlooking the river – here's a before & after:
Of course, it wasn't that simple.  Nothing is ever simple.  I figured out I couldn't get the drill in close enough, because I was screwing the edge of each shelf into the ¾" window frame.  So I had to use a screwdriver.  And I couldn't get decent leverage without drilling starter holes.  Which had to be angled due to the close proximity of the wall to the drill.  After about 20 trips up and down the ladder [about 6 of which were to collect screws I'd dropped] I got the 2 shelves hung up.  And after another 10 or so trips, I got the cats set up.
Here's a closeup of the finished set-up:
And here's the 3rd shelf that's been over the French doors in the living room for the past year, housing the rest of my collection: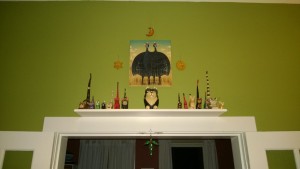 Here's all 3 shelves in one pic: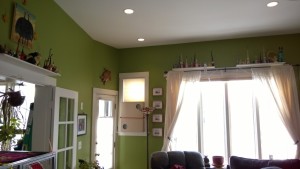 And here's me after finishing: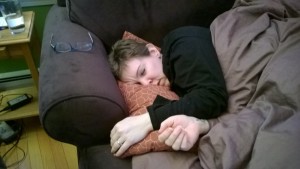 My bursts of energy usually result in crash naps.
And here's the beautiful bouquet of flowers I came home to today!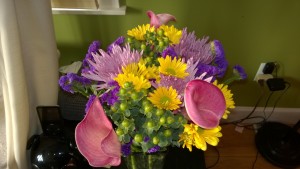 I love you, hubby!!!
(Visited 315 times, 1 visits today)