When I installed the large cat platform in the upstairs hallway earlier this year, I also installed 2 smaller access steps, figuring Bonkers could use them to get himself up onto the main platform.  He never even tried.  He doesn't have very good balance and I think the main platform is too high for him to contemplate.  So last week I moved the 2 smaller platforms to different locations to make them more usable.
Here's their original placement [on the left]: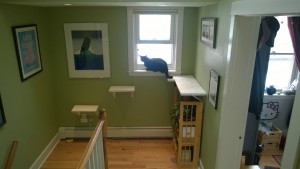 And their new placement:
One is now to the right of the main cat platform, halfway between the platform and the floor: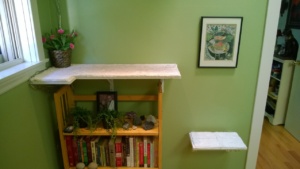 And the other is in the girl cave under the window near my computer desk: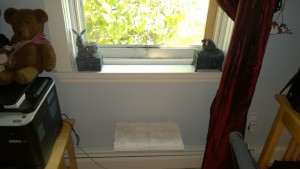 Bonkers is always trying to get up to that windowsill to be near me while I'm working or playing on the computer, and Birdie has recently discovered it as well.
I used Molly Bolts when I first attached these to the upstairs hallway wall, but they weren't the easiest things to use.  So this time I tried drywall screws, which worked out really well.
(Visited 238 times, 1 visits today)