I haven't really written a pet update since June, so I figured now would be a good time.  I've been holding onto some photos from the past few months to share with you.  We don't currently have any rats; we're still mourning the unexpected passing of Franc last June 🙁  Instead we've been busy focusing on Bonkers' health, my health, and an accidental onslaught of fish babies… [more on that in my next post].
BONKERS:
Bonkers is doing really well, considering he's roughly 17 years old [no one knows for sure since he's a shelter cat]: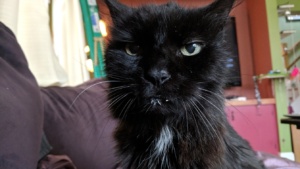 He's in full kidney failure so we "juice him" [administer sub-cutaneous IV fluids] 3-4 times a week, and give him 1/8 tsp Mirilax twice a day in his food to keep him regular.  He eats well, drinks a lot of water, and uses the litterbox like a good boy.  Because of mobility issues with his left hind leg he's restricted to the 1st floor, but he still loves going out to the catio on nice days [when it's a bit chilly I put his sweater on, which you can see in the 1st picture]:
He HATES his sweater even though he looks so adorable in it!!!:
And he loves going on small walks with his harness leash.  He spends most of his "walking" time sitting in our neighbor Kathy's garden sniffing catnip and eating cat grass [thank you for having such a cat friendly garden, Kathy!]:
He snuggles on my shoulder every night while I watch TV and most Friday nights he gets his own roast beef sandwich:
A few weeks ago my coworker Carol gave him some pet stairs which he uses to get up and down from the couch [thank you Auntie Carol!]:
We don't know how much longer we have with him, so we cherish every day.
DARWIN:
Darwin is awesome.  He used to hate his harness leash but now he loves it because he knows it means going outside:
And he's been a very good big brother to Bonkers by keeping him company for naps:
BIRDIE:
Miss Birdie is the QUEEN.  Just look at that face and regal posture.  QUEEN: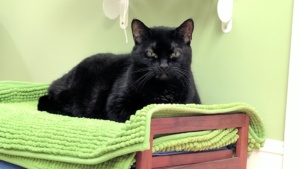 She has evolved constantly over the past 3 years from a shy, timid, scared rescue girl to Queen of the House, and [FINALLY] Queen of the Bedroom!  Much to Darwin's horror.  The girl cave and living room alcove were always Birdie's domains and the whole house – including the bedroom – was Darwin's.  But as of 2 weeks ago Birdie marched in, took over, and there's no going back.
She has taken over the bedroom cat tree:
The bedroom feeding station:
And, most impressively, THE BED:
The bed has been the hardest for Darwin to adjust to [that's him behind her]:
I told him he should start calling her Goldilocks.
Whenever I lay down [which I do more often lately, because sick] I feel little cat feet making their way up the comforter and she lays down right next to me purring like a motor.  It's AWESOME!!!  She is in kitty heaven, and so am I.
(Visited 188 times, 1 visits today)