In case you missed my previous Birdie posts:
In my last post I mentioned that Birdie has adopted my girl cave workbench as her new spot:
I set up an IKEA rug on it for some cushioning [the same rugs I use on the cat platforms].  Once an IKEA rug is on something, Birdie seems to know it's hers.  However, she was having issues getting up there by herself.  She's a rather big girl, very "fluffy".  And that's a lot of fluff to get airborne.  The other night I walked into the girl cave & she was pacing back and forth along the base of the workbench, looking up at it and meowing.  I bent down to pick her up, but she was having none of that.  She put all her energy into a giant leap and landed sideways on the workbench, sliding along the top and knocking off a bunch of my stuff.  Very graceful.  So this weekend I spent 10 minutes hanging a cat platform on the wall for her, in the window.  I drilled 4 anchor holes & hammered in the anchors:
Then hung the shelf.  I used shelf brackets screwed into the anchors, but I also added reinforcing L-brackets screwed into the wood frame on the top side of the platform:
Here's Birdie checking out the new platform, and taking a bath in her new spot:
Tonight Birdie was in her new spot [she used the new platform to get up – woohoo!] and Darwin was sprawled in the upstairs hallway keeping an eye on things:
Birdie having a snack earlier this evening: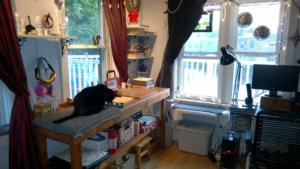 Her new spot is next to the window that overlooks the driveway and street, so she has nice breezes and lots to look at and smell [she knew I was up to something when I took the 2nd pic]:
And the platform itself is in the window overlooking the deck, which Darwin spends a great deal of time stalking birds in.  There are sparrows nesting in the eaves above that window, so he's been going nuts all summer trying to "catch" them.  So it works out perfectly for both cats.
The platform I used is actually one that I'd hung in the upstairs hall almost exactly one year ago.  It got in the way of the light switch, and the cats barely used it, so I took it down a couple months ago.  I was happy to have a new spot to put it.  Here's the hallway after removing the platform [which used to be under the whale painting]:
Here's an old picture of it when it was still in the hall [furthest one over to the right, outside our bedroom]:
Meanwhile, Bonkers is still hanging in there, we're giving him sub-q fluids every other day now, which seem to help.  He doesn't like his new kidney-enhancing food, so the vet said to feed him whatever he will eat, since he's so skinny.  He's lost a pound over the last 3 weeks, which he can't really afford, but we're doing the best we can to keep him happy & comfortable.
(Visited 104 times, 1 visits today)