Not that we have much of a garden, our yard is way too small.  But we do have planters lining the wall in our back yard, which overlooks the Ipswich River.
Two weeks ago I bought the multi-colored Petunias and filled the orange planters with them:
And last week after work I bought some Bachelor Button and Zinnea seeds, which I planted in the green planters.  The seedlings are starting to grow!
And best of all, Birdie is still totally loving her new upstairs platform!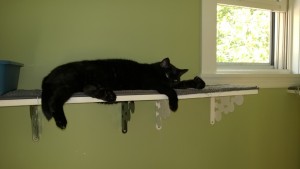 (Visited 188 times, 1 visits today)