HAPPY HOLIDAYS !!!
This is going to be a winter of creativity – I just know it!  Every day the urge to create pervades all my senses, giving me flashes and ideas.  I love it!
One thing I'm really excited about is stained-glassing.  Last year I saw THIS amazing DIY stained-glass window: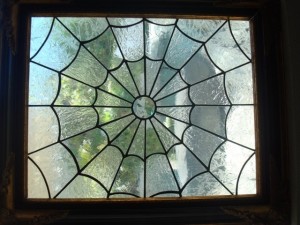 And I knew I had to try it.  The day I make my own spider-web stained-glass window is the day I'll reach a new level of awesomeness.  Heh… Thankfully my best friend Abbie has been stained-glassing for years.  She's SO talented!  She and her husband just moved into a really big house with a huge, old barn where she'll have dedicated work space for stained-glassing.  We're going to work on some projects together [well, separate but together].  Last year she recommended Stained Glass Basics, which I bought on Amazon.
And today, for my Christmas gift, she gave me some beginner's supplies to get started!  I'm SO EXCITED!!!  She gave me a glass cutter, some pencils for marking the glass, some oil [for the cutter I believe], a straight edge to help with cutting, and some practice glass pieces to cut [which her hardware store gave her for free when she explained what she needed it for!]: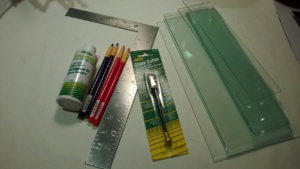 Hooray!
And last week I made 3 separate trips to Art Supplies Wholesale [the official art supply store for Montserrat College of Art] in Beverly, MA.  I got a bunch of new gesso board [my preferred medium], 2 cool brushes, 2 paint pens [I've never worked with paint pens before – I'm excited to experiment], and 2 big tubes of blue acrylic paint [I was completely OUT – the horror!]: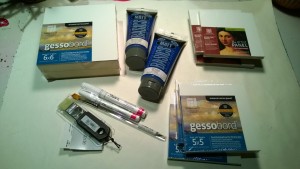 I have plenty of other colors of paint: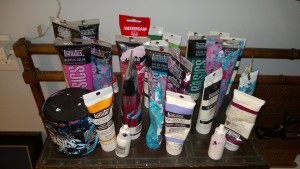 Double hooray!  I'm hoping to start being creative this week – I have Christmas Day through Sunday off – 4 solid days to get the creative juices flowing 🙂
UPDATE 10/11/2015:
I completed my first stained glass project!  Which, as planned, was a spider web:
(Visited 171 times, 1 visits today)