Yesterday, after a 3 week break from even thinking about DIY [due to traveling for the holidays, a wedding vow renewal on the beach 2 days after Christmas, and friends over for New Years], I decided it was time to get back into it.  I'm starting by making my long overdue DIY Spice Rack!
On Saturday morning Hubby and I went down to the local mom & pop hardware store and bought 5 pieces of ⅜"x¾"x6′ trim.  I lugged them down to the basement cage [they're not heavy, just awkward] and cut them into 10 24″ pieces & 3 22″ pieces: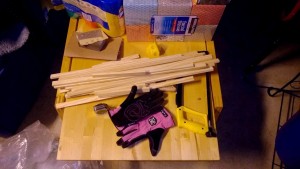 Then I brought them up to the girl cave, sat on the floor, and built my spice rack!  It's based loosely on 2 designs I found online – one at humblefoodie.com and one at thekitchn.com.  By some miracle the nail holes are all on one side [which will now be the back, naturally] of my spice rack.  I wish I could attribute it to a well thought out design, but it was more a product of sitting on the floor with a hammer and nails and whacking the thing together… There was a fair amount of swearing and bent nails during the process, but it came out better than I expected:
This morning I primed the spice rack [and the cat platform & ramp for the dining room, but that will be discussed in a separate post]: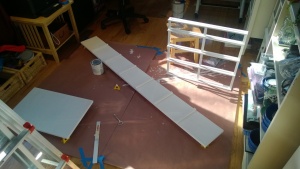 This afternoon I'll paint it. I'm also going to the hardware store today to buy some brackets for the platform and ramp, and a stud finder [something I should already own, but don't].
(Visited 301 times, 1 visits today)