Last year, before I knew much about DIY stuff, I decided to regrout a small portion of the master bathroom tile with… gasp… Spackle.  I realized my mistake right after doing it… it looked horrible and I could tell it wasn't going to last.  Especially in a bathroom.  Here's a horrifying photo of the Spackle job [on the left], and a less horrifying photo I took today after removing the Spackle:
Last week I went to Home Depot and bought some sanded grout.  I got "Natural Grey" because the original grout is grey, so I figured it would be a close match.  It turns out it's a lot darker than the existing grout… and I'll probably end up redoing it, but it still looks better than Spackle: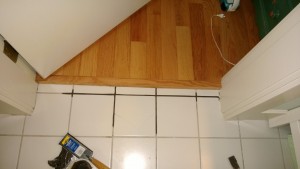 While I had the grout out, I decided to check out our first-floor laundry room and was amazed at how bad the grout in there was.  I'd never noticed because I have no reason to go in there – my husband does all the laundry 🙂  Here's what the grout looked like before [lots of chunks missing]:
And what it looked like after I touched it up with the [too dark] new grout:
UPDATE 10/30/2013:
The more I stare at the new grout, the more I'm realizing that at some point in the next few months I'm going to feel compelled to tear it out and replace it with a much better match to the original color… gah!  It's reminding me too much of an unfinished crossword puzzle.
UPDATE 11/8/2013:
I suppose, conversely, I could also continue with the new grout over all the tile, so all the grout is redone.  I'll have to ponder that for a while.  I'm not sure what would look better – all light grey grout, or all dark grey grout.
UPDATE 1/17/2014:
Now I'm considering ripping everything out and completely re-tiling the bathroom, laundry room and front hall [which has the same square, white tiles].  It would be fun to go with a different color/style in each area.  So perhaps that will be a future project!
UPDATE 9/1/2015:
I discovered a product called PolyBlend Grout Renew – it's genius – you paint it on the grout and it changes the color:
(Visited 824 times, 1 visits today)