I am a Federal employee & was out of work on furlough for 5 weeks from 12/22/2018 through 1/27/2019.  During my forced vacation I managed to get a lot done at home, some of which I've already shared:
[1] – I refinished a 3-drawer cupboard with high gloss paint: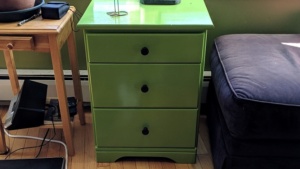 [2] – I built additional shelving for our front hall closet: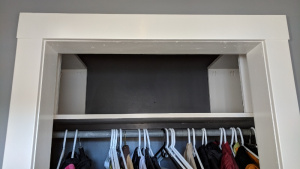 [3] – I installed a new dryer tube in the laundry room: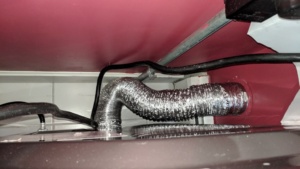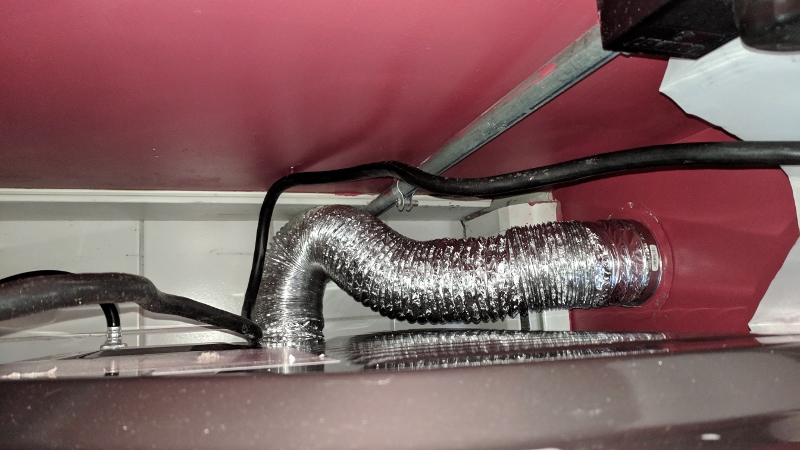 [4] – I transferred all our house paint from rusty cans to air-tight mason jars: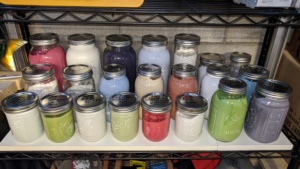 [5] – I replaced the dining room DVD towers with much-needed cube storage: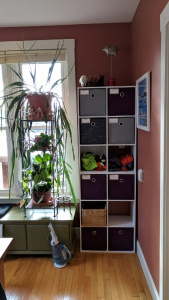 [6] – I transferred my DVD collection from their cases into a handy binder which takes up almost no space:
In addition to those larger projects I also completed a few smaller projects:
[7] – I unclogged our 2 bathroom sinks which were a horror story.  Hubby left a sign on the bathroom mirror to make sure I didn't forget: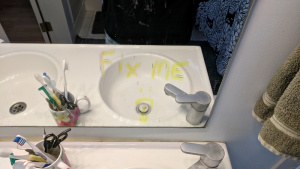 What even is that nasty black/pink/white shit that builds up in drains – SO GROSS!!!:
After an hour of plunging, tweezing, and scrubbing, they were unclogged & beautiful:
[8] – I replaced one of the small square cat platforms in the living room with a bigger one, which has made it much easier for the cats to get up and down:
[9] – I wall mounted the 2 power strips behind our TV so the TV table isn't a mess of cords:
I had to be very careful in how I secured the cords on the wall b/c the space behind the TV is a cat runway.  It's so nice to not stare at cords anymore:
[10] – I installed magnetic closures on some of our temperamental kitchen cabinets so they'll stay closed.  Some of them had a habit of remaining open about an inch which drove me crazy: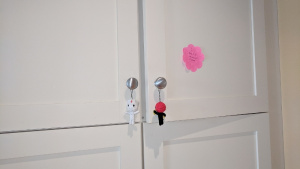 After screwing the magnetic bracket to the inside of each cupboard I stuck the matching catch to it, dabbed on some red paint:
Then shut the cabinet door so I knew exactly where to screw the catch:
The cabinet doors over the fridge are always problematic – the hinges always need adjusting or the doors hang askew.  I used upper & lower magnetic brackets for each door hoping it will help them remain aligned:
I installed another magnetic bracket on the left side cabinet door over the stove:
[11] – Lastly, I deep cleaned 85% of our condo.  Including the kitchen, dining room, living room, hallways, stairs, front hall, master bedroom closet, and laundry room: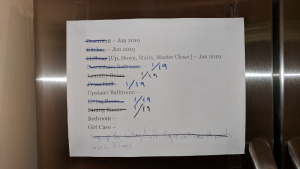 Deep-cleaning meant removing all the furniture and vacuuming under and behind it, mopping the floors, dusting and/or washing the walls, removing the dust-bunnies & cobwebs hanging from the ceiling, washing every surface including the tops of doorways & artwork, touching up any paint that was nicked, & cleaning out any cupboards, cabinets, baskets, or closets in the room.  It was EXHAUSTING!  But kept me very busy and focused.  All that's left is the master bedroom, upstairs bathroom, & the girl cave.  Each room took about 8 hours!
(Visited 319 times, 1 visits today)