Page last updated 5/20/2020
I have already written about the Mother's Day Flood of May 2006, which happened 3 years before Jim bought the condo.  This post is about the Flood of 2010 which he experienced 4 months after moving in.  When he bought the condo in November 2009 he'd been told the chances of the River flooding again were basically 1%.  The Mother's Day Flood was considered a "100 year flood" [thanks for helping me understand what that means, D'Arcy!]  He was therefore very shocked & upset when it happened so soon after moving in.  He lost everything he'd stored in the basement.
From Boxford.WickedLocal.com:  "By Monday morning [March 15th, 2010] the river at seven feet was well over its banks.  It still rained hard; more was predicted.  We knew then this flood would be another big one.  Would it exceed past records?  The Mothers Day Flood crest of May 2006 was 8.45 ft., 1420 cfs, a record since measurements began at the gauge in 1938.  That flood topped the previous record of March 22, 2001, 8.39 ft. and 1200 cfs.  Monday evening, as the depth approached 8 ft., we thought this one might top them all.  About midnight the rain stopped. The upward curve started to level off and by first light Tuesday reached its peak of 8.43 ft., 1320 cfs."  So this flood was basically just as bad as the Mothers' Day Flood of 2006!  On the one hand, I'd have loved to experience it.  But on the other hand, I'm really glad I didn't!!!
Jim took this photo of the basement early Tuesday morning [March 16, 2010], with a roughly 21″ inch water line – that's our cage on the left, and the water heaters and furnace in the background, which miraculously still worked after the basement dried out: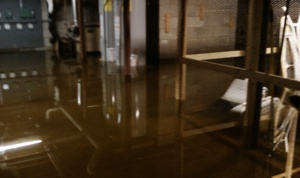 At the height of the storm there were 29″ of water in the basement, based on Jim's memory and a faint water line on the concrete wall.  By comparison, the Mother's Day flood line was at the basement ceiling:
Thankfully a sump pump had been installed after the Mother's Day storm, but Jim said it wasn't able to keep up with the flooding during the 2010 storm, despite the power never going out.  Apparently the fire station came around and helped pump water out of people's basements, including ours.  Jim said with their help it got to a level the sump pump could manage on it's own.  I emailed a former condo owner to ask about the sump pump situation.  He said there was one small sump pump for the flood of 2010.  Afterwards it was replaced with a "powerful sewage ejection pump and another sump pump".
Jim's 2010 flood photos are on the left, my comparison photos of a "normal" day are on the right:
This flood photo was taken by Paula Stephens [used without permission].  That's our house on the right.  My comparison photo is on the right:
And here are 2 CRAZY YOUTUBE VIDEOS shot of the Ipswich River after the rains stopped.  This one is courtesy of YouTube user katiehone75:
And this one courtesy of Glenn Kennedy.  At the 36 second mark of this video you can see Jim [beige jacket] & his friend Alicia walking on the Riverwalk Bridge to check out the flooding:
(Visited 37 times, 1 visits today)