This post builds on 5 Little Projects Part 1 published June 8th [projects 1-5 – duh] & 5 Little Projects Part 2 published June 21st [projects 6-10].
[11] In July Jim bought a privacy screen for the deck [#affiliate] – I spent an hour weaving it in and out of the railings & securing it with zip ties [included].  With everything shut down for Covid, a LOT more people are walking out onto the fish ladder, where they have a direct view up to our deck.  It was getting disconcerting and Jim's solution is perfect.  It also blocks the sun and heat from the railing down, which is great!
BEFORE:
AFTER:
[12] I was planning to use my new pressure washer [#affiliate] that I got for Christmas to wash many things, one of which was the basement bulkhead.  However, we've been in mega drought mode since Spring, so it's been a no go on the pressure washing.  I finally got sick of the bulkhead looking so ugly and algae covered and decided it was high time to paint it black.  First I hand washed the thing with lots of mildly soapy water, then primed and painted it.
BEFORE:
After 2 coats of primer:
After 2 coats of exterior black:
And a final touch-up to the inside edge of the main door [you could still see the white edge, as the door doesn't always lay flat]: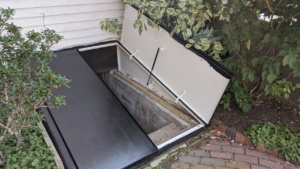 [13] Repair the "2 cats sitting on a couch" that Christyne gave me.  The cats were not secured to the couch, they kept falling off, and every time they did more paint chipped off of them.  I super-glued their cat butts to the couch, touched up the chipped paint with as close a color-match as possible, sealed the paint with Polycrylic clear coat, then sat them back in the red bookcase:
BEFORE:
AFTER:
[14] Now that I replaced all our exterior doorknobs & deadbolts with Baldwin Smart Key ones, and we have one key to open our entire house, I decided we needed WAY more security for our exterior spare key.  Not that we ever had one… I mean, we NEVER lock ourselves out… [only about 6 times a year].  I decided to replicate the idea of the first responder lock box I installed last year and buy an exterior wall safe [#affiliate] for our outdoor spare.  It requires a 4-digit code to unlock it.  And don't try to guess it – it's based on a number that is personal to only Jim & myself 😉:
I decided to place it around the corner from our front door, so it's not visible to the casual observer.  It was very easy to install:
It doesn't have a way to hang a key inside, so at first I tried to screw a hook into the wall in place of one of the 4 screws.  It worked great until I tried to close the lock box and couldn't: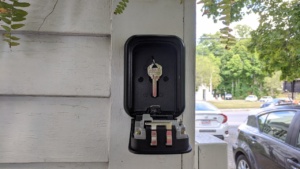 Self adhesive Velcro [#affiliate] strips to the rescue:
The lock box has a weather shade to cover the combination lock:
You can barely see it from the front door stoop [it's to the left above the green bungee cord]: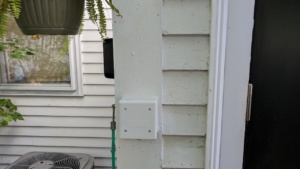 And you can't see it at all as you approach the door: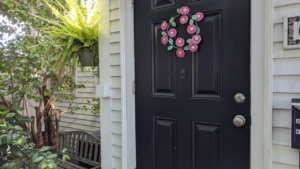 [15] Due to working at home since March, and having to use a "temporary" [permanent?] desk set up in the girl cave, I got tired of having to drag my desk away from the built-in cupboard whenever I needed access.  I've had the desk up on blocks, which weren't secured to each other or the desk legs, so moving it was a nightmare.  I decided 2 weeks ago to screw the blocks together and adhere them to the desk legs with sticky squares:
Even with the extra stability, the desk was still a bitch to move.  So I found these slider feet [#affiliate] on Amazon:
The black rubbery part faces up and the soft fleecy side faces the floor:
Total game changer.  I moved the desk back [with ease!] to store a few things in the cupboard and Birdie came running.  She knows the sound of a cupboard opening and immediately wants to go in and investigate:
She was NOT impressed with how crammed full of stuff the cupboard is.  No room for Birdie:
It's so nice to be able to easily access the cupboard, and my stained glass supplies on top!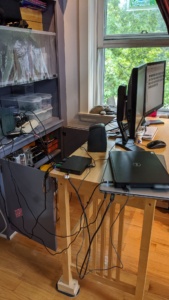 Stay tuned for upcoming posts!
(Visited 71 times, 1 visits today)