Since I can't really go to Home Depot [it's not worth it unless it's an emergency], and since I can't really go out [except to walk]: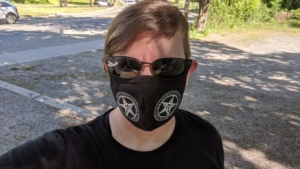 I've kept myself busy with little projects.
Here's my first 5:
[1] Caulking the top of the tub surround:
Never even knew it was cracked/separating until I stood up on the edge of the tub for a different little project:
Much better:
[2] Sealing the slate tiles & the grout in the front hall:
This is supposed to be done annually… it's been 5 years… better late than never.  The grout sealer is very easy to paint on:
And the slate tile sealant goes on with a sponge and then you scrub off as much as possible with paper towels.  Now our front hall floor is shiny again:
[3] I upgraded the staples on the catio to fender washers and screws:
I got sick of the staples working their way out every year:
They only work their way out in the areas of the catio with 2 overlapping pieces of welded wire.  I left staples in the rest of the catio.  The fender washers work MUCH better, and they look nice:
[4] I added a big hook to the front hall to hold Darwin's leash and a few other handy things:
[5] I tightened the refrigerator handle and also the sink faucet handle – both had come loose over the years:
It took me a long time to find an Allen wrench small enough to tighten the fridge handle: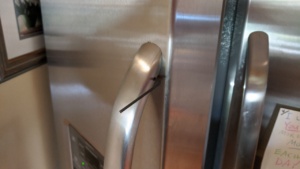 I had to clean the faucet first because it was too dirty to take photos of – now it's gleaming:
I had to find a slightly differently sized tiny Allen wrench for the sink faucet – I also had to google the internets to figure out where the hell the screw to tighten the faucet even was [under the little circular hot/cold thing – go figure]:
Just in case we need to tighten them in the future I put the 2 tiny Allen wrenches on key rings, labeled them, and hung them on our key rack: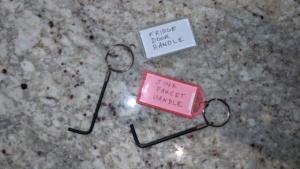 Stay tuned for another 5 little projects, coming soon!  I hope everyone and their families are safe and healthy.
(Visited 56 times, 1 visits today)