This is going to be a very boring post.  I'll get that out of the way right now.
Back in the Fall of 2018 I replaced a bunch of our crap shiny gold doorknobs with crap silver ones, and replaced a bunch of our solid brass hinges with crap silver ones from Home Depot:
I say crap because I opted for "cheap" instead of "good" [#affiliate].  The crap hinges aren't strong enough for our 3′ wide, 1¾" solid wood doors.  They squeak unless I spray them with WD-40 every few months.  With each squeak they're screaming "THIS F'ING DOOR IS TOO HEAVY FOR US!  WE'RE JUST JUNK!".   The biggest crime is I. THREW. OUT. THE. ORIGINAL. SOLID. BRASS. HINGES.  FACE PALM.  I could REALLY kick myself for that!  I have since learned it would cost $11/hinge to replace the 9 I threw out [aka $120!].  Oh well.  Live and LEARN.
Thankfully I went to Germany after replacing the hinges on only 3 of our 8 interior doors [inner front hall, downstairs bath, & laundry room].  By the time I began work again on the hinge/doorknob project last June, enough time had gone by for me to realize the junk level of the replacement hinges.  Otherwise I'd be looking at having to replace 15 MORE solid brass hinges!  Expensive.  So my newer plan is to keep the original solid brass hinges on the remaining 5 interior doors [basement, girl cave, bedroom, master bath/bedroom, & master bath/hallway], but spray paint them silver metallic.  And if you think it's a crime to spray paint solid brass, I don't care.
The following photos are all from last June.  I never wrote the post to go with them because BORING.
My game plan last June was a trial run to see how spray painting the brass hinges would work out.  I removed the middle hinge from the 4 interior upstairs doors [hinges #19-22/42].  Some of the screws on the girl cave door were stripped.  I HATE that.  I had to use my Dremel tool to cut lines in them so I could remove them with a flat head screw driver:
The hinges from the girl cave & master bath/hallway doors were painted white [my bad].  I read how to remove the paint on the internets.  Boil for 10 minutes: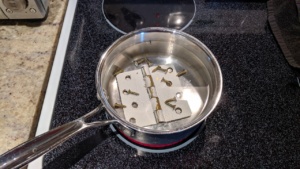 Then use a putty knife and wire brush to remove the paint – super easy:
Then I brought the 4 hinges, pins, & screws outside and sprayed them with Rustoleum dark metallic:
The next day I replaced them on the doors.  Bedroom door hinge before & after:
That was the only one that went back on like a dream [of course].  The other 3 required some shimming and hammering and muscle power, especially the 2 master bathroom doors:
Shimming the bottom of the master bath/hallway door and then using a piece of wood and a hammer to get the painted hinge to sit flush back in it's seat:
Adding the pin and using the wood and hammer again to tamp it down:
I screwed the master bath/bedroom hinge into the wall, then realized the screw holes didn't line up on the door.  Had to shim that door as well:
Success!  The holes lined up and I was able to attach the rest of the hinge to the door: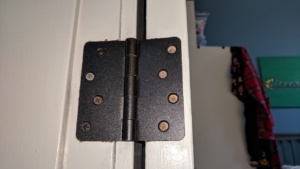 I'm thinking now that the dark metallic color might be too dark.  I made the decision to go with that instead of silver nickel.  I'm not sure though.  I have 3 more cans of the dark metallic and none of silver nickel, so it might win out.  And I don't really feel like re-doing those 4 hinges!  It took a long time.  The dark color is still MUCH better than the ugly, stained brass: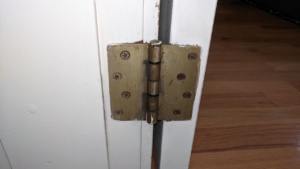 I have started work on this project again, which is why I'm finally posting about last June's endeavors.  Stay tuned!
(Visited 55 times, 1 visits today)