In May 2016 I completed a DIY screen door for the master bedroom, which leads out to the deck.  It's been AWESOME having a screen door for that door, as it lets in a great cross breeze, especially at night.
After 4 years of sun & weather the door is still going strong, but the paint DEFINITELY needed some TLC: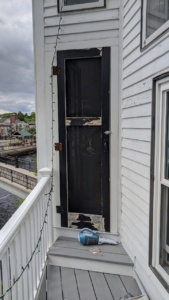 I started scraping off what I could, both inside and out:
Then primed both sides with Kilz primer: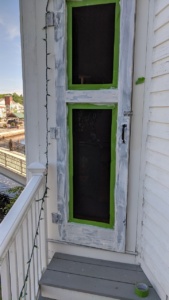 Meanwhile I went to Aubuchon Hardware and bought exterior black semi-gloss paint: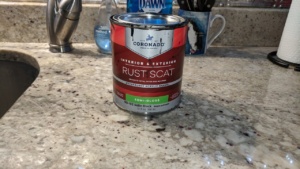 I painted on 2 coats, both inside and out.  Previously, the interior of the door had been white but I decided to paint both sides black:
It looks awesome:
I also took the time to adjust the outdoor slide lock, which over the years has become misaligned.  Then gave it a small makeover:
Originally I thought this would be another one of my "5 Little Projects" but it took a week and became more of a medium sized project so it got it's own post.
(Visited 40 times, 1 visits today)