HAPPY HOLIDAYS !!!
I haven't posted much this year.  Mostly because instead of trying to get higher readership by posting every week, or twice a week even, I decided to only post when I had something worthwhile to say.  Or a completed project to share with you.  It's made my life much easier.  I have only posted about half of what I posted last year, and I'm OK with that.  I was looking through my Instagram pics last night and decided to get you all caught up on my recent life through the photos I've uploaded to Instagram:
Darwin taking his first sip from the cat fountain I installed, and Darwin in my shoebox:
Halloween wreath with orange, battery-powered fairy lights, daytime, nighttime:
Trying to cut a hole in the bathroom door & Darwin checking out his resultant cat door:
Raging River outside our living room, & Darwin checking out the top of the just-cleaned rat cage:
Sunset this Fall, taken from our deck:
Winston and Killy enjoying Cheerios & whipped cream:
My new car!!!  2016 Civic EX-T [old one died], and Darwin sleeping in my puffer jacket:
HAPPY HOLIDAYS !!!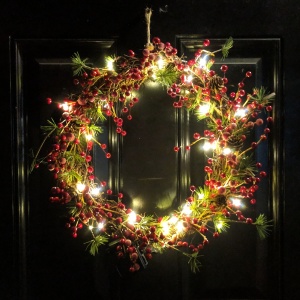 (Visited 56 times, 1 visits today)