A few weeks ago our friend Torrey asked if hubby and I would like to accompany her to Muse Paintbar in Lynnfield, MA for "Paint Your Pet" night.  I instantly said yes, hubby instantly said no.  So last Tuesday night Torrey and I painted our pets!  I've never been to a Paintbar – it was so cool!  It reminded me of my art classes at college except you could buy wine, beer, & food.  Score!  I bought a can of sparkling red Sangria when I arrived at 6:00 [yum], but kept it at one because I had to drive home *nods*.  We had to upload a photo of our pet 2 days prior to the class so they could sketch it onto our canvas.  I had such a hard time selecting a photo!  I wasn't sure which pet to paint, or which photo.  I finally settled on a photo of Franc I took last summer:
When I arrived at the Paintbar it was sketched and waiting, as was Torrey's pug puppy Tuna:
When class started at 6:30, there were about 20 people in attendance.  They told us we'd each been given a plate of 6 basic colors, 5 brushes of different sizes, and a can of water:
I was happy when they told us we could ask for any other color we needed.  Phew!  The lead instructor was French, and told us he had just learned the word "whiskers" so he kept repeating it, which was kind of funny…  I could only understand about half of what he said, but thankfully 3 other instructors patrolled the class and were always there to answer questions.  The lead instructor said we'd be starting by painting the background a solid color.  He said that way our pet would be the main focus of the canvas.  Made sense.  So I immediately asked for green, and got a big plate full.  I painted my whole background green, but I wanted to add some highlights so I asked for more green.  The instructor looked at my painting and was like "it appears your background is done…" and I was like "more green please".   She was like "you don't want to overdo it" and I was like "more green please".  She was like "you need your background completely dry for the next step…" and I was like "more green please!" and held out my plate.  Thankfully she complied.  I mixed it with a bit of white & yellow to lighten it up and touched up parts of my background to give it more depth: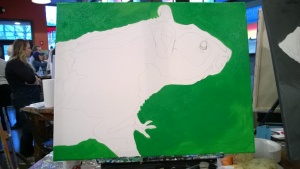 Torrey added some highlights to her background as well.  They both came out awesome!:
They then gave us a 15 minute dinner break.  I ordered French bread pizza, Torrey ordered a cheese cube basket:
The food was OK… not great.  Then it was time for eyes & noses.  We were supposed to outline each one and then fill them in with color and/or shading.  It took me FOREVER to get Franc's nose right.  Way harder than it looks:
By this point it was almost 8:00!  Torrey & I were like "how the hell are we going to finish the entire thing in the next hour & a half???".  They told us to work on our pet's body next.  They said to pick a main color, and then mix up a lighter shade, a medium shade, and a darker shade.  We were supposed to do the highlights first, the dark parts next, then the middle part.  Like I said to hubby after the class:  "it's easy to go light to medium to dark, or dark to medium to light… how the F are you supposed to go light to dark to medium or vice versa???".  So I started with the highlights, then moved on to medium, and then dark:
The last step was adding the "fur".  I chose to just add some whiskers and a few furry edgings along Franc's back:
One of the instructors came over and gave Torrey some help getting Tuna just right.  The class was so much fun!  Here's some shots of the art space: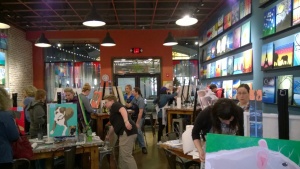 The aprons they offered were all painted with different themes or sayings.  The one I happened to grab declared me "The One The Only Patrick":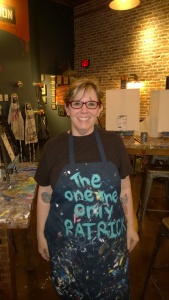 Here's Torrey [left] & her friend Lisa – Lisa didn't paint, she came by at the end to check our work and she and Torrey went out for cocktails while I went home & to bed: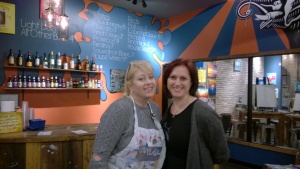 I would recommend that anyone try a Paintbar – it's so much fun!  I can't wait to go back!
(Visited 131 times, 1 visits today)