I spent the summer of 2015 building a catio [outdoor cat enclosure] for our cats:
It connects by tunnel to a cat door in the dining room window:
I thought I was being thorough by covering the chicken wire seams with strips of luan plywood for a more finished look:
But last Fall I noticed the luan was looking a little worse for the wear.  The top layer was peeling off, it was warping in places, and was starting to turn colors due to some type of mildew growth.  Last weekend when I was getting the yard ready for Spring I noticed the luan was looking pitiful:
The connector tunnel is faring a little better, but not much: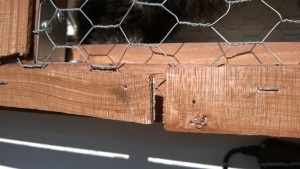 So I used the drill to remove the screws holding it in place [which were purely decorative – the luan strips were nailed to the catio frame with about 1,000 nails].  Then used my hands and a hammer claw to pry the luan off & pull all the nails out:
Underneath I found many web/caccoon things, and lots & lots of moisture:
The catio looks fine without the strips, so I will not be replacing them:
I am currently debating options for the catio.  Should I re-stain it?  Should I replace the chicken wire with square mesh welded wire?  Many catios seem to use that type of wire:
From ChirpyCats.com:
From iCreatived.com:
From Brit+Co:
I love looking at other catios for ideas & inspiration.  Although I usually get envious of the yard space many people have!  I'd love to build a catio with a tree inside and lots of ramps & ledges!
I need to ponder options for my catio for another few weeks and then decide whether I'll do anything further to it this summer or not.
(Visited 340 times, 1 visits today)