I have been making slow but steady progress on the front hall for the past few weekends, despite being sick and feverish for half of this week/weekend.  I do a little work, rest a little, do a little more, take a 4 hour nap, etc.  I know I should relax and rest 100% but I have a hard time with that…  Last weekend I mixed the perfect color for the walls & finished the closet shelf:
The walls are a custom mix of Benjamin Moore Kendall Charcoal and white.  This weekend I decided to paint the ceiling Kendall Charcoal to complement the slate floor.  First I painted a test spot: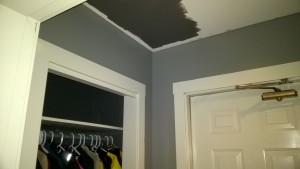 Hubby was skeptical but I really liked it, so I did the rest:
I also re-painted most of the trim.  I just have a little left for tomorrow.
Tomorrow I'm also hoping to [finally] move the 2 piles of closet shelf crap from the dining room floor – where they've been since March – back onto the closet shelf:
It's mostly extra motorcycle stuff.
And look!  The disco ball's updated position in the upstairs hallway paid off!  When the sun shines through the skylight the whole hallway sparkles: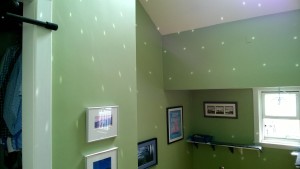 I love it!!!
(Visited 483 times, 1 visits today)