This weekend I actually did something right on the first try!  I'm obviously not talking about the front hall wall color, which took 3 tries.  I'm talking about mixing my own hue of paint!  I mean, I've been doing that forever when I create art.  But I've never done it with wall paint before.  I was inspired by Jo at Let's Face the Music who gave me the courage to believe I could do it – thanks, Jo!
The first color I painted the front hall was Benjamin Moore Kendall Charcoal:
Too dark.
The second color I painted the front hall was Benjamin Moore Marina Gray:
Too blue.
I had considered other colors, like Benjamin Moore Portland Gray or Pashmina, but ultimately decided to try lightening up my leftover Kendall Charcoal.  I went to the Benjamin Moore store and bought a gallon of white base paint and a 3 gallon plastic bucket.  I had about ¾ quart of Kendall Charcoal leftover from painting the hall back in March.  I poured about half of it into the 3 gallon bucket.  Then I poured what I thought would be a good amount of the white base paint into the bucket [probably a quart, to a quart and a half] and mixed it up.  I compared the color of the original Kendall Charcoal with the new hybrid mix on a paint stick:
It looked perfect, so I tested it on the wall:
It looked really good with the slate!  Hubby and I decided to go for it, so I covered my precious slate floor with contractor's paper: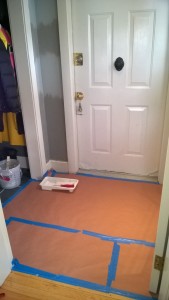 And put on 2 coats.  It looks really good!
The color is now fairly close to Benjamin Moore Storm: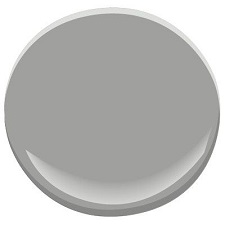 The interior of the closet is still Kendall Charcoal – I like the contrast.
I also finished the closet shelf!  I primed it a few weeks ago, and this weekend I painted it.  I also used the iron-on wood veneer on the front edge.  Here's the before, and halfway through ironing on the veneer:
And here's the finished edge [which I painted white], and the shelf back in the closet [thanks to hubby!]:
Yay!!!  So now the floor, walls and closet shelf are done.  Next up is re-painting the trim and ceiling, and dealing with the rusty door.  We will most likely be replacing the door.
Here's a pic I took in our yard before work last week: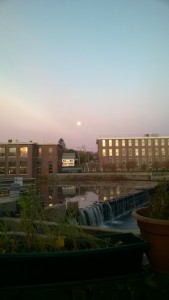 Happy November, everyone!  Meh.
(Visited 496 times, 1 visits today)