In case you missed it, here is the previous link for this now-completed project:
PART 2
– SANDING IT BACK TO WHITE
Project #4 on my 2015 Projects list is "Paint Small Bookcase in Girl Cave Purple".  The scope of this project recently changed, in part because of something that will be revealed in a forthcoming post, and in part because my parents would love to have it back.  So today I completed the project as far as I can in terms of the new scope, so I'm calling it DONE!
In 2013 I inherited this adorable little white bookcase from my parents: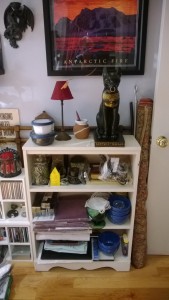 In February 2014 I painted it dark purple to match the motif in the girl cave: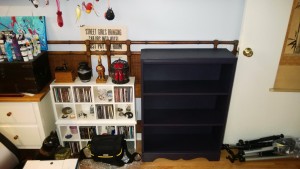 …before realizing it had originally been painted [by my Dad] with oil paint.  I always use latex.  And this is what happens when you paint latex over oil: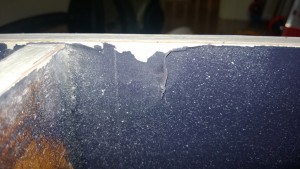 The latex slides off.  Nightmare.
Sanding the purple off, priming it, and re-painting it has been on my "to do" list for 2 years.  However, now that the bookcase's plans have changed, and it will be traveling back to my parents' house, I decided to spend this afternoon prepping it for it's approaching journey.  I took it down to my basement workshop and got started with the palm sander:
And spent 40 minutes with my palm sander removing as much purple paint as possible.  Their plan is to restore it to it's original white finish [with a new coat of primer and paint].  You would think the latex would just peel off, but it wasn't that easy.  Maybe I left it on too long before removing it?
The first step with any sanding project is proper eye and respiratory protection: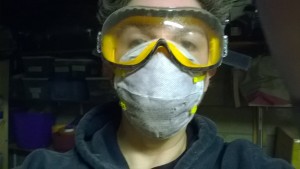 After 40 minutes of power sanding:
You can see how much dust is on the work table and floor by this point, and how much is in the air by the amount of orbs flying around!  So much dust:
After taking a break [which included a LONG hot shower], I hauled the bookcase outside for some hand sanding.  After 45 MORE minutes of hand sanding, most of the purple was finally gone!!!:
It's not perfect, but my Dad can take it from here!  Mom & Dad – next time you guys swing by it'll be waiting in the dining room for you!
PS – today wasn't all about work, I did relax with my boys this morning as I sipped tea out on the front step:
Hooray for SPRING!!!
(Visited 329 times, 1 visits today)