It's time to think about TILE.  Hubby and I went to Home Depot back in April to look at the different colors and styles of tile.  We decided to go with Hampshire slate: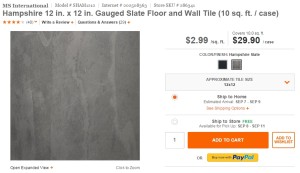 We borrowed a piece to take home and decided it would definitely work in the front hall.  Although I might need to re-paint the walls a lighter grey.  Jim's friend Torrey [who is responsible for the brilliant wall colors in most of our condo] suggested I match the new wall color to whatever grout color I go with.  I'm planning on using a light grey grout and I think a similar color will be perfect for the walls 🙂
Last week I ordered 40 12×12″ Hampshire grey slate tiles from Home Depot, which I picked up today – each tile is slightly different:
Aren't they beautiful?  I love the natural variation of slate.  The front entrance hall is approximately 38 square feet so hopefully I'll be OK with 40 tiles…  They come 10 to a box.  Worst case, I'll have to order a 5th box.  At $30/box they're pretty affordable.  I'll do the main room first, then the closet.  That way if I run out, it won't look too horrid!
So I got started smashing the existing white ceramic tile in the front hall.  I used a ball-peen hammer.  It was FUN!!!:
Yuk, spider…: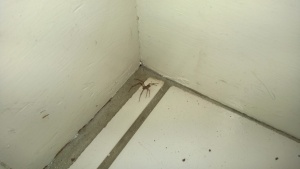 I originally attempted to use my hammer and cold chisel to gently pry up the tiles [like I'd done with the tile I replaced in the master bathroom], but quickly switched to the "smash the hell out of them with a hammer" method.  Which made a mess, but was SO MUCH QUICKER!   I put the larger pieces/chunks in a cardboard box for the dump, and shop-vac'd the rest.
(Visited 487 times, 1 visits today)