So, not exactly DIY related, but sort of.
BASEMENT SHELVES:
I had today off from work.  Jim did not.  So I spent most of the day decluttering and organizing the house.  Part of that involved setting up the 2 black Whitmor 4-Tier Shelving Units [#affiliate] I bought last month on Amazon [apparently I ordered them on Christmas day – random]. I was going to put one in the basement cage and one in the girl cave, but after setting up the first one in the basement I decided to put them both down there.  They're AWESOME:
It's so nice having all my stuff on shelves, all laid out in front of me, instead of in random stacks.  After getting the shelves organized, I re-set up my work table and got my glass cutting supplies from Abbie ready to go: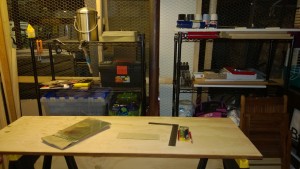 I'm hoping to cut some glass this week!
DITCHING THE COUCH:
Last year we bought a sectional couch & matching ottoman from IKEA:
At first we loved it.  But then we started realizing it wasn't very comfortable.  At all.  And the longer we had it, the worse it seemed to get.  A few months ago Jim moved to his recliner [which also sucked, but not as bad as the couch], and I set up a nest of pillows and comforters to make the couch bearable.
Last month we finally agreed it was time to go furniture shopping.  We spent 2 weekends hitting store after store [from high end ones like Crate & Barrel and Pottery Barn, to mid-level ones like Jordan's and Bernie & Phyl's, to low-end ones like Bob's].  We finally found a recliner Jim loved at La-Z-Boy [on sale for pretty much half off]: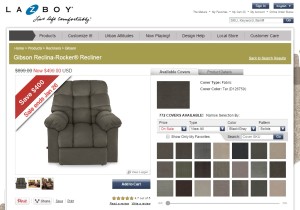 And a couch & ottoman we both liked at Bernie & Phyl's [also on sale]:
We ordered the couch & ottoman in deep eggplant purple.  They're supposed to arrive in about 2 weeks.  We can't wait!
So in preparation for the new couch's arrival, we had to figure out what to do with the old one.  Jim suggested putting it on the curb like the other furniture we've gotten rid of, but since it's so new, and in great condition, I suggested selling it on Craigslist.  I've had really good luck selling furniture on Craigslist in the past.  On Saturday I took some pics & posted an ad:
Within a few hours, 6 people had responded to it.  The first 2 backed out, but the 3rd person was a super nice man who came today with his 2 teenage sons and loaded the couch and ottoman into his SUV and tow-behind trailer.  They've recently refinished their basement into a teenage hangout, and the couch will be perfect for them.  And we're $350 richer – woohoo!
Our living room looked SO empty after they left!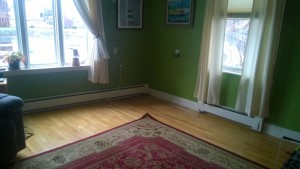 I moved the crappy old recliner into place next to Jim's new one, which will tide us over until the new couch arrives:
The old recliner isn't actually that bad – I've been sitting in it all evening, and it's pretty comfortable.  Not nearly as comfortable as Jim's new recliner, which rocks, reclines, and feels like being hugged by a cloud.  But it will do.
I'm currently plotting 2 new cat shelf projects, so stay tuned!
(Visited 266 times, 1 visits today)