I was hoping to be a DIY dynamo last weekend and tackle some projects that have been clogging up my to do list for far too long.  Like the girl cave ceiling string lights, the girl cave bookcase redo & the recessed lighting trim color change.
But when the weekend arrived, I felt like doing nothing.  So I did nothing.  All weekend.  I watched a lot of TV, took naps, took some nice, long [cold!] walks, read my Kindle, and saw a movie with hubby at the local art-house theatre.  And it was a wonderful, relaxing weekend.  But by Sunday night I started to feel really guilty that I hadn't accomplished anything.  Hubby tried to console me by pointing out that I had done a huge amount of errands Saturday morning [3 hours worth!]* & made slow-cooker vegetarian chili [yummmmm!].  But it only consoled me a little bit because none of it was DIY related.
So after dinner Sunday I grabbed the new paper lantern [#affiliate] I'd bought on Amazon last week, transferred the color-changing LED bulb into it [LED bulbs don't get hot, so there's no safety hazard with a paper lantern], and hung it from the ceiling:
We've always had a cylinder lamp up there, with the color-changing LED bulb, sitting on the mission-style bookcase.  From outside, after dark, you can see our hallway slowly changing colors all the way through the rainbow [including pastels!]  But the new cat platform blocks the lamp and all the pretty changing colors.  Last week I moved the cylinder lamp up onto the cat platform, but I wanted to hang it from the ceiling so it wouldn't be in Darwin's way [a.k.a. smashed on the floor].  Cylinder lamps aren't designed to be hung up, so last week I began the hunt for a hanging light, with a plug, that takes one standard-sized bulb, is small, and in a style that would enhance the beauty of the 15-color changing LED bulb.  Not as easy as it sounds!!!  I was originally aiming for something like this:
I LOVE that first one:  Kaia Frosted Beads Plug-In Pendant [#affiliate] sold by Lamps Plus & Amazon [but "currently unavailable" – GAH! – I would have bought it in a heart beat!]  The second one is pretty too:  Nicolli Clear Crystal Plug-in Mini Chandelier sold by Lamps Plus [still available for $130].  I thought a color-changing bulb would look amazing inside either of those.  I imagine hubby is breathing a sigh of relief that our upstairs hallway isn't adorned with either of those…
The one on the left gave me a brilliant idea.  It's round, it's small… just like a… paper lantern!  After a very quick hunt on Amazon I found a 10″ paper lantern [for $1!] and a kit that includes a plug for one standard light bulb and a hook for the ceiling [for $15].  Perfect!  The lantern and kit arrived last week, so Sunday night was a quick change out from the cylinder lamp to the paper lantern.  Here's Darwin investigating the new arrival: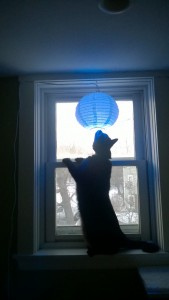 Now I just have to secure the cord down along the window frame and we'll be in business!  It's not quite as swanky as a shiny, shimmery swag pendant, but at least I could sleep well knowing I'd accomplished one DIY thing over the weekend 🙂
Anyone that knows me knows that I HATE doing errands.  So I usually make a list in my phone of the errands I need to run, and when it gets obscenely long [every month or two… or four…] I do all of them at once.
UPDATE 8/27/2014:
I bought and installed the Kaia Frosted Beads Plug-In Pendant on 8/27/14 and it looks amazing!
(Visited 265 times, 1 visits today)