In case you missed it, here is the previous link for this now-completed project:
Last March I hung a paper lantern [#affiliate] in the upstairs hallway because the swag pendant I wanted was out of stock on Amazon.  The paper lantern – with a color changing LED bulb inside – did a great job filling in the space.  But last week I noticed the lamp I'd originally wanted [Kaia Frosted Beads 12″ Chrome Swag Pendant] [#affiliate] was back in stock – woohoo!
So this weekend I hung it up.  I LOVE IT!!!  Even hubby agreed it looked pretty cool.  Love you hubby!
Hanging it up wasn't as easy as I'd anticipated [of course – nothing ever is].  It involved drilling a ½" hole in the ceiling over the window and inserting the toggle bolt drywall anchor included with the lamp, which attached to the first ceiling hook.  The 2nd ceiling hook was much easier to install, since I could screw it directly into a ceiling joist:
It looked beautiful once it was up: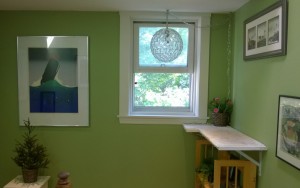 And even MORE beautiful once it got darker out, and I could watch the color-changing bulb do it's thing!
I looooooooooooooooooooove it!!!
(Visited 287 times, 1 visits today)