In case you missed it, here are the previous links for this now-completed project:
DINING ROOM:
DOWNSTAIRS HALL & LIVING ROOM:
Today I heard a huge crash.  I ran out into the front hall and saw one of the downstairs hall cat platforms had ripped right out of the wall.  Apparently when Birdie was leaping off it onto a higher platform it was the last straw for the 6 wall anchors and the whole shelf ripped right out: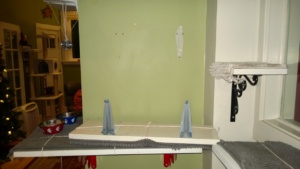 Jim witnessed it and assured me Birdie wasn't hurt, or even phased by it PHEW!!!  It appears the ends of the metal shelf brackets have slowly bent over time: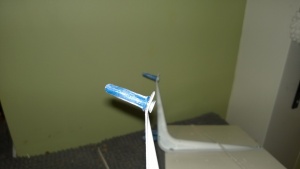 I grabbed a pair of black, heavy duty iron shelf brackets in the basement which I bought on Amazon last year [#affiliate].  They're weight rated for 200 pounds so I think we're good!   The original shelf was too narrow [6″] for the iron brackets so I went down to the workshop and used my table saw to cut a piece of painted plywood [which is actually my original stained glass work table, which I painted white a few weeks ago, but which didn't work out!] to 8″ wide: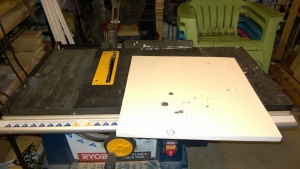 Old shelf in back, new shelf in front: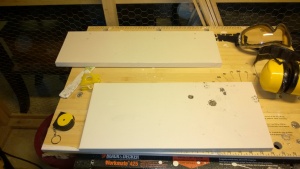 Then screwed the new brackets onto the shelf, and the shelf to the wall using new anchors and huge screws: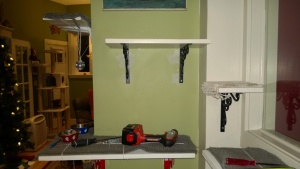 Just to be extra safe I also screwed a little metal L-bracket to the shelf and side-wall: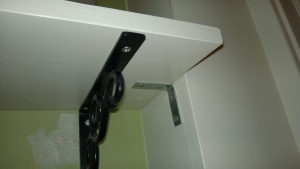 Jim was impressed with how sturdy the new shelf felt – it doesn't have an ounce of give, so hopefully it will be able to withstand a few more years of Birdie and Darwin jumping onto and off of it.
I hope everyone had a wonderful Christmas & Hanukkah, and I wish you all a very Happy New Year!
(Visited 137 times, 1 visits today)