Last night one of the original downstairs hall cat platforms ripped out of the wall with a huge crash:
The anchors ripped right out. Totally didn't expect that.
Thankfully I picked up some new spackle at the hardware store this morning – I had no idea I was even out – who runs out of spackle?  Anyways: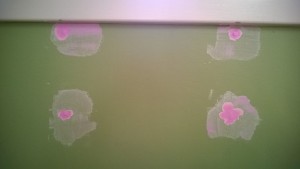 I spackled the holes, attached new brackets [which I also bought this morning], and hung the shelf from the laundry room window frame instead of anchoring it into the drywall: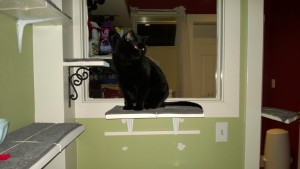 '
That's Birdie enjoying her newly attached shelf.  It's currently supported with 2 pieces of wood which are wedged between the wall and the brackets – I need to anchor them to the wall, but at least the shelf is up and functional again!
And here's a teaser for my next post – look who's in the alcove!
Birdie! Yay!!!!!!!!!!!
UPDATE 7/11/2018:
I still haven't secured those 2 thin pieces of wood which help support the shelf brackets! They work so well as is that I never have gotten around to it.
(Visited 264 times, 1 visits today)