Progress so far:
So far I have made 20 stained glass stars!  HOLY COW!
Almost exactly a year ago I was busy making stained glass stars for the holidays.  I decided to have fun with a few of the smaller ones and decorated them like snowflakes: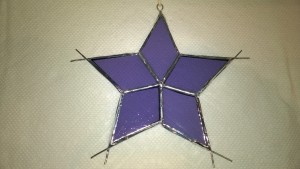 This year I decided our house needed MORE snowflake stars.  I grabbed 3 of last year's larger stars and brought them up to my workshop:
At first I decided to add swirls to all 3.  I carefully crafted each swirl with needle nosed pliers:
I made 12 [4 per star], then soldered them on: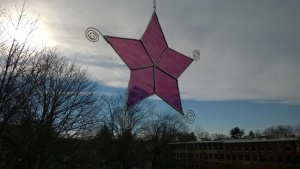 But after seeing them hanging in the window I decided it was too many swirls.  I took the blue star back upstairs and heated up the solder holding on the swirls until they fell off.  Then I made 5 large circles by wrapping my 16 gauge pre-tinned wire around the post of a Whitmor shelving unit [#affiliate] in the basement:
I made 5 smaller circles by wrapping my wire around a small Maglite flashlight:
I soldered the large circles to the star first, then went back and nested the smaller circles inside.  It was very hard to get them straight!  But I did it and I think it's very pretty:
Then I took the small purple one from last year [pictured at the top of this post] and snipped off the prongs.  Too sharp.  Then I crafted 5 small triangles and carefully soldered them on:
It looks beautiful in the window:
Then I grabbed a large "bubble glass" star from last year and embellished it the same way.  First I cut 5 equal lengths of wire, then folded each in half with needle nosed pliers:
Then pried them back open into triangles with my fingers.  Next up was anchoring the bubble glass star between 2 blocks of wood, painting on lots of flux, positioning a wire triangle with needle nosed pliers, then soldering it onto the star:
I love it!
Here's our living room window displaying all the snowflake stars [and the guardian angel my German sister made me last year]:
I love how glass looks layered – holding 2 snowflake stars together made for some cool effects:
As an aside, I've gotten tired of looking at my ugly plywood soldering board.  The greasy flux stains & solder burn marks detract from any photos I try to take!:
So yesterday I primed it with 2 coats of BIN primer, then painted it with 2 coats of white trim paint:
SO much better:
(Visited 230 times, 1 visits today)