Num Num Num!
I got this recipe from Lyn's "Escape from Obesity" blog.  She has a lot of delicious and healthy recipes.
Slice the butternut squash down the center – it cuts easily with a big knife pushed right down through it: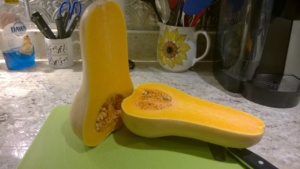 I leave the seeds in it and just place each half face-down on an ungreased cookie sheet: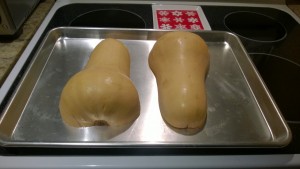 Bake at 400° for 60 minutes until golden brown: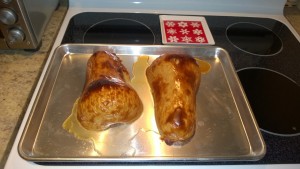 Then gently flip the squash over, scoop out [and discard] the seeds, & scoop the meat into a bowl: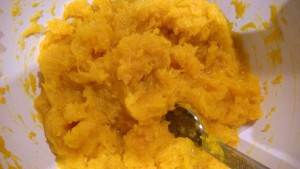 Boil up some water & cook 8oz. of elbows per box instructions.  Drain and dump into bowl with squash.  As the pasta cooks, prepare the cheese sauce [per recipe below].  Dump the sauce into the bowl with squash & pasta, and stir until you've got a yummy, gooey mess.  Spread into a 9×13″ [greased] dish: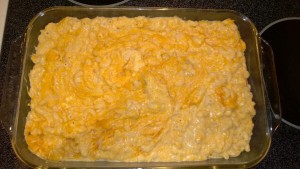 Bake at 350° for a half hour, until nice & golden brown: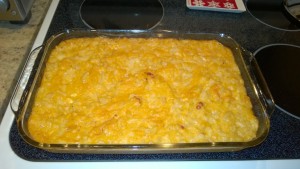 Serve & ENJOY!
I mixed a container of blue cheese into the sauce as I was preparing it – sooooooooooo good.  Last time, I was watching my weight a little more closely so I sprinkled blue cheese on hubby's half and left mine bare [still yummy!]: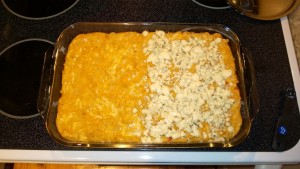 RECIPE:
1 good-sized butternut squash
8 oz. macaroni
Cheese Sauce:
1½ Tbsp. butter
1 small onion, chopped small [can use a food processor]
½ tsp nutmeg
salt & pepper
¼ tsp dry mustard
1½ Tbsp. flour
1 c lowfat milk
12 oz. Cabot low-fat shredded cheddar
Optional:  crumbled blue cheese
Cut the squash in half and roast at 400° on a cookie sheet for 60 minutes, until very soft when poked with a fork. Scoop out and discard the seeds.  Scoop out all the flesh and put it in a BIG bowl.
Cook macaroni according to package directions.  While it's cooking, make the cheese sauce.  Drain the pasta and put it in the bowl with the squash.   Stir it gently until well combined.
Cheese Sauce:
Melt the butter on medium heat in a saucepan.  Add the onion and saute til soft.  Add nutmeg, salt & pepper. Add the flour, stir it up good, and then add the milk S-L-O-W-L-Y.  I mean, add a little splash and stir it in, then a bit more, stirring each time, until it is all incorporated.  Heat almost to the boiling point, stirring often [as an aside, I accidentally dumped all the milk in at once tonight, and the recipe came out awesome, so I'm not sure it's necessary to add it slowly].  Take it off the heat and add the cheese.  Stir until melted.
Pour the sauce over the macaroni and squash.  Stir it in gently until well combined.  Put this mixture into a 9×13″ baking pan sprayed with cooking spray.  Bake at 350° for 30-40 minutes until hot and bubbly.
Makes 4-8 servings depending on how hungry you are… Usually hubby and I split the mac 'n cheese into 4 servings.  It's half squash with lowfat cheese and lowfat milk, so it's actually not bad in terms of fat and calories!  ¼ of the casserole is 396 calories, 9 grams of fat, 66 grams of carbs, 8 grams of fiber, and 17 grams of protein.  For reference, an entire roasted butternut squash is only 240 calories.  A common misconception is that butternut squash [or any squash] is a starchy vegetable, but it's not.  It's pure healthy deliciousness!  Yum!
(Visited 166 times, 1 visits today)