Earlier this month I ripped the chicken wire off the catio and re-stained it.  I also built a sleeping box for the bottom level.  Next up was attaching the welded wire [#affiliate] I bought from Amazon.  The welded wire was so much easier to use than the chicken wire!  It lay flat when I rolled it out, it didn't have stabby edges that cut me or got snagged on my clothes, and it's welded in 1″ sections which made measuring a breeze:
I used my new bolt cutters to cut each section – probably overkill [wire cutters would have been sufficient] but I love using the bolt cutters.  After measuring each section, I cut it, then stapled it [#affiliate] to the catio body.  It went much faster than the chicken wire and used less staples:
Once I had all the segments wired [except the bottom front one where the sleeping box was] hubby and I tried to shove the catio back against the wall/house.  No deal.  It had rained a lot and the ground was muddy, and the catio feet were sunk into the mud.  ARG!  Hubby left for the gym and told me we would try again when he came back.  I am not very patient.  At all.  And I enjoy finding solutions to problems.  And I enjoy doing things by myself.  So I opened my car trunk and dug out the jack.  I've never used the jack in the 9 years I've had the car.  I spent 2 minutes figuring out how it worked, then lay on my back [in the mud] and started jacking up each corner of the catio.  Once each leg was jacked up, I slid bricks under it.  2 bricks for the legs nearest the house, and 1 brick for the legs nearest our neighbor's half of the yard [ground slopage]:
It was amazing how fast & easily each corner of the heavy catio lifted up.  I was gleeful!  I might have even giggled a little.  Once I got it jacked up and sitting on bricks, I lay in the mud again and laid a 2nd row of bricks adjacent to the first, one step closer to the fence.  Then hip-checked the catio from the first set to the 2nd.  Thankfully it worked!  Using that method I was able to jog the catio over a few inches at a time until it was flush against the house & wall.  It took almost the entire 40 minutes hubby was gone, but he was very impressed when he got home.  And I didn't hurt my back, mom, not even 1% [!].  The jack did all the lifting.  Shoving the catio across the bricks was easy.
Once the catio was back in place, I got started on the door:
I yanked the chicken wire off, re-stained it, stapled welded wire to each section, then re-hung it on the catio.  I also collected another 700 staples [+ random sharp objects] from the yard:
I bought 2 outdoor chair cushions at Home Depot and put them in the sleeping box.  I didn't want the wooden sleeping box sitting directly on the wooden catio, for fear of water getting stuck, so I grabbed one of the extra slate tiles from the basement [from when I tiled our front hall 2 years ago] and dropped it on the ground to fracture it into 4 [remarkably even] sections.  That section on top was a pre-cut section I already had, the ones underneath aren't quite as square, but close:
I slid them under the 4 sides of the sleeping box, then stapled welded wire across that last section of catio: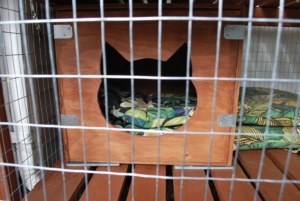 Next was removing the chicken wire from the connector tunnel, re-staining it, and attaching welded wire:
Then bolting it back to the house and catio body:
The catio is slightly further away from the house than it used to be.  I did that on purpose so the gutter will drain under the catio instead of straight down.  When the catio is closer to the house the curved gutter extender won't fit.  I had to attach an extra piece of welded wire between the connector tunnel & catio body to account for the new 1″ gap: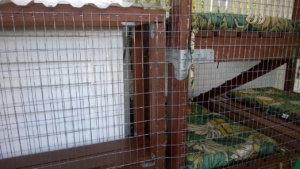 Here's a view from outside looking in through the connector tunnel to the cat door, and a view of the cat door looking out at the connector:
I called Darwin over and he instantly dove out the window – he was very pissy that his catio had been closed for renovations for a week & a half!  Here he is exploring the 2nd floor [which is where the connector tunnel dumps him out] and then the bottom floor where the sleeping box is:
He inspected the sleeping box but didn't go in: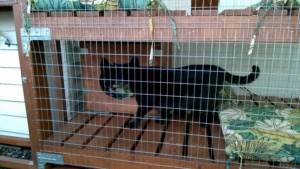 The FINAL step was cleaning the poly-carbonate roof panels, which, after 2 years, were pretty gross:
They looked SO MUCH BETTER after a good scrubbing.  I took out all the screws on one side, cleaned the panels, then re-screwed them down.  Then got on a ladder and unscrewed the panels on the back side, cleaned them, and re screwed them down.  That way I didn't have to actually remove them from the roof.  So clean and sparkly: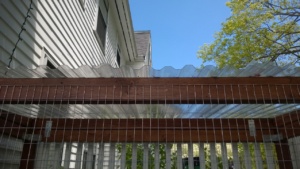 Here is the finished product!  Re-stained, re-wired, and ready for another 2 years of making our kitties super happy.  You can see the sleeping box on the bottom level, in the back:
Here's Bonkers [left] & Darwin checking it out: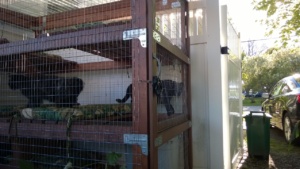 And a few days ago I found Darwin happily snoozing inside his cozy sleeping box.  Yay!!!:
(Visited 361 times, 1 visits today)