I built the catio 2 years ago.  It definitely needed some TLC.  Last week I yanked off the decorative but moldy luan panels from the sides.  I have been debating replacing the chicken wire with something sleeker & less stabby.  Last Sunday I went to Home Depot & Lowes to look at welded wire, but they didn't have exactly what I was looking for.  Well, Lowe's did, but only in green.  I decided welded wire would look fantastic on the catio & ordered 100 feet of galvanized welded wire from Amazon [#affiliate] [I only ended up needing about 70].
While I waited for it to arrive, I ripped off all the old chicken wire and re-stained the frame.  Hubby helped me drag the catio away from the house & fence so I could access all 4 sides:
There were still some moldy luan panels on the parts of the frame that had been up against the house & fence, so I pulled those off first:
Then removed the catio door & set it aside.  The chicken wire came off pretty easily with work gloves & a lot of brute-force yanking:
Yanking the chicken wire off caused a ton of staples to fly through the air [I was wearing my safety goggles, thankfully, and many staples pinged against them] and land all over the yard.  I spent an hour collecting as many as I could find, and placed them in stacks of 100 on a plant plate.  I realize that's a bit OCD, but I wanted to collect as many of the 1,500 staples I'd originally used as I could, to minimize any critters that might wander into our yard from being hurt.  This plant plate = 700 staples [plus other sharp objects I found including nails, screws, broken glass, etc.]:
I gave the whole catio a thorough wash with hot water & a sponge before staining.  After 2 years in the sun the stain was faded and in some places the wood was totally exposed:
It didn't take long to re-stain, and looked SO MUCH BETTER afterwards:
I used Thompson's Water Seal in Acorn, same as the first time around: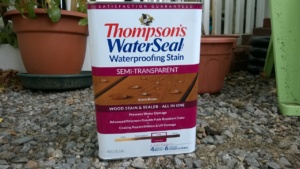 It looks brand new [the chicken wire you can see in the 2nd pic is on the connector tunnel]:
Next up will be de-chickening, washing, and re-staining the catio door & the connector tunnel.
(Visited 318 times, 1 visits today)