I laid the last 10 tiles in the front hall today!  And sealed them.  I'm so happy they're done!  After laying them I let the mortar dry for a few hours while I attended a friend's birthday party.  Then I sealed them.  Now the entire front hall and closet is covered in beautiful, dark grey slate!
After laying the final 10 tiles: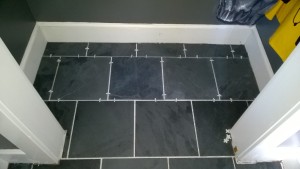 After sealing the final 10 tiles: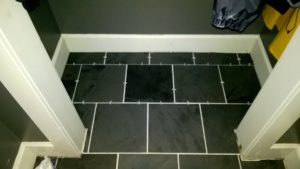 View from outside looking in:
I'm still getting used to my new phone camera… The actual color of the slate is what you see in the first 2 pictures of this post.  The last 2 pictures make it look a bit reddish and washed out.  Meh.
Next step will be grouting everything!  Hooray!!!
Today Bonkers realized a new cat shelf was added to the living room and spent 30 minutes trying to figure out how to access it: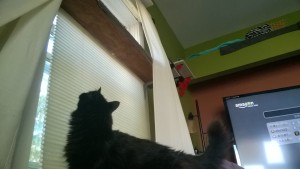 Sorry, buddy, not gonna happen!  He'd have to start in the downstairs hall, climb up to those platforms, climb up to the alcove above the TV, then climb down the 2 steps on the wall to the left of the TV.  He was fairly furious he couldn't get up there from the couch.
Here's a shot of Darwin I just took – he only drinks water from the faucet in our downstairs bathroom.  He's very spoiled: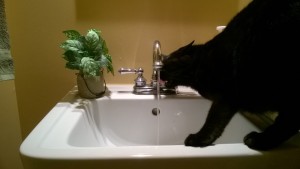 We spent so much money on those watering stations for cats that plug in and have a constant waterfall of running water.  He has zero interest.  He only wants sink water.
(Visited 222 times, 1 visits today)